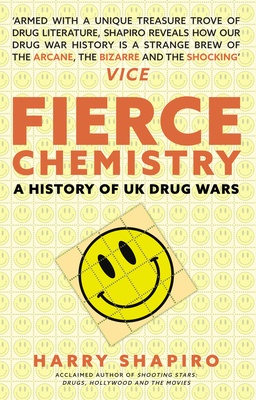 Fierce Chemistry
History of UK Drug Wars
Hardcover

* Individual store prices may vary.
Description
In July 1920, when the first Dangerous Drugs Act was passed, the UK drug scene was limited to small groups of Soho night people, smoking opium and sniffing coke and some middle and upper class people (mainly women) around the country quietly getting private morphine prescriptions from their GP ... Now, exactly 100 years on, we have hundreds of thousands of people using a whole smorgasbord of different drugs. How did that happen?The nineteenth century saw scientific developments whose unintended consequences laid the foundations for the modern explosion of recreational and chronic drug use, which has in turn sparked a worldwide effort to stop it. At first encouraged by the commercial opportunities afforded by widespread 'cures' – many consisting of little more than heroin or cocaine – by the twentieth century a moral crusade had gathered force to curb this new social ill. In truth, although the dangers of drug use were very real, the origins of the war against drugs stemmed from wider fears in society. In this new book, a culmination of a lifetime of research and writing on the topic, Harry Shapiro isolates the different elements behind the war on drugs – drugs and race, youth culture – to present an issue reaching boiling point. Using a range of interviews, documentation, private papers, government archives and studies from the Institute for the Study of Drug Dependence, Shapiro synthesises a tale of crime, money, politics and exploitation bigger than any country.
Amberley Publishing, 9781445665443, 320pp.
Publication Date: June 15, 2021
About the Author
Harry Shapiro is one of the UK's leading experts on drugs and drug addiction, having worked in the field as a writer, journalist and researcher for over thirty-five years. He is the author of many books and articles on the subject including 'Shooting Stars: Drugs, Hollywood and the Movies' and 'Waiting for the Man: The Story of Drugs and Popular Music', voted by the BBC Millennium website as one of the best music books. As a music writer he has published several biographies, including 'Jimi Hendrix: Electric Gypsy', nominated for the Ralph Gleason music-book prize in the USA.
or
Not Currently Available for Direct Purchase