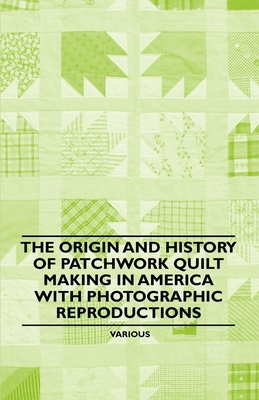 The Origin and History of Patchwork Quilt Making in America with Photographic Reproductions (Paperback)
Read Books, 9781446542316, 196pp.
Publication Date: March 15, 2011
* Individual store prices may vary.
Description
This vintage book explores the colourful history of quilt making in America, looking its origins, development and evolution, influences, popularity, contemporary techniques, and much more. Quilting can refer either to the process of creating a quilt or to the sewing of two or more layers of material together to make a thicker padded material. Typical quilting is done with three layers: the top fabric or quilt top, batting or insulating material in the middle, and then the backing material. With fascinating information and photographs of authentic examples, this is a volume not to be missed by anyone with an interest in quilting. Contents include: "The Romance Of Patchwork", "Quilt Names", "The Quilting Bee", "The Quilt's Place In Art", "The Quilt In The Twentieth Century", "Historical Quilts From Recent Exhibitions", "Gleanings From Old Scrapbooks", "How To Make A Quilt", "Reproductions Of Quilt Patches", etc. Many vintage books such as this are increasingly scarce and expensive. It is with this in mind that we are republishing this volume now in an affordable, modern, high-quality edition complete with a specially-commissioned new introduction on quilting.