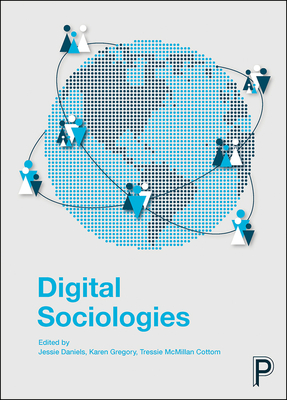 Digital Sociologies
Paperback

* Individual store prices may vary.
Other Editions of This Title:
Hardcover (1/15/2017)
Description
This handbook offers a much-needed overview of the rapidly growing field of digital sociology. Rooted in a critical understanding of inequality as foundational to digital sociology, it connects digital media technologies to traditional areas of study in sociology, such as labor, culture, education, race, class, and gender. It covers a wide variety of topics, including web analytics, wearable technologies, social media analysis, and digital labor. The result is a benchmark volume that places the digital squarely at the forefront of contemporary investigations of the social.
Praise For Digital Sociologies…
"Really interesting."
— Sarah Mirk

"In this rather eclectic collection of 29 chapters from 35 authors, the editors attempt to bring to light the potential contributions that sociology may offer to understanding the digital world in which humans now exist. More broadly, however, this is a clarion call to the discipline of sociology to reassert itself as a leader in developing methods to study human lived experience and reexamine its scholarly review processes. The editors warn of wholesale 'poaching' of classically trained young sociologists by other academic departments more fully addressing digital existence, and make a strong, impassioned plea for sociology to develop this sub-discipline further—and faster—if it is to remain relevant. This book is a fine first step in addressing these articulated concerns and in laying a framework for areas of future contribution, especially in how structures, institutions, and everyday micro-level interactions are being transformed—and transforming—human existence. Highly recommended."
— J. R. Mitrano, Central Connecticut State University

"A wealth of scholarship to explore the challenge of digital. The book engages with a range of theoretical questions, including challenging the digital/traditional sociology binary, the role of institutions, digital's impact on eduction, the racialized practices of Twitch, the meaning of motherhood, the quantified self, the question of the body, and the digital sociological imagination. The eclectic range of scholars, offering perspectives from across the academic life course and deploying examples from across the world, create an important intervention into our understanding of this emerging, and perhaps as a result of this book, established, field of study. Ultimately the book is a call for a new community of scholars to engage with this most important element of contemporary life."
— Dave O'Brien

"In this cutting-edge book, innovative scholars with an impressive array of sociological perspectives probe major dimensions of our increasingly pervasive digital world. . . . A book for all concerned about the digital revolution and the future of global democracy."
— Joe Feagin, Texas A & M University, former president of the American Sociological Association

"An in-depth conceptual analysis of everyday life—an invaluable and essential contribution—I highly recommend it."
— Emma Bond, University of Suffolk

"An exciting volume of essays addressing new digital sociologies. . . . Timely and engaging and confront[ing] more conventional sociologies with a new upstart in the field."
— John Holmwood, University of Nottingham

"A comprehensive account of the digital sociology project whose scope is startling in its ambition and which shows how the digital has implications for nearly all sociological topics, questions, and problems."
— David Beer, University of York
Policy Press, 9781447329015, 520pp.
Publication Date: November 16, 2016
About the Author
Jessie Daniels is professor in the Departments of Public Health, Psychology, and Sociology at the City University of New York. Karen Gregory is a lecturer in sociology in the Division of Interdisciplinary Studies at the City College of New York and faculty head of the City College of New York's CITY LAB. Tressie McMillan Cottom is professor at Virginia Commonwealth University and former fellow at the Microsoft Social Media Collective and the Center for Poverty Research at the University of California, Davis. She has written for the New York Times, Washington Post, and the Atlantic.