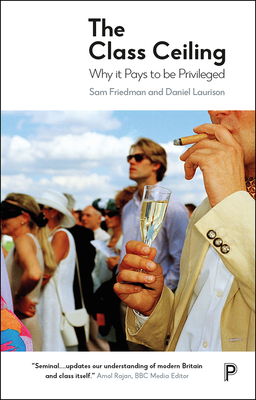 The Class Ceiling (Hardcover)
Why it Pays to be Privileged
Policy Press, 9781447336068, 256pp.
Publication Date: January 1, 2019
Other Editions of This Title:
Paperback (1/1/2020)
* Individual store prices may vary.
Description
Politicians continually tell us that anyone can get ahead. But is that really true? This important book takes readers behind the closed doors of elite employers to reveal how class affects who gets to the top. Friedman and Laurison show that a powerful 'class pay gap' exists in Britain's elite occupations. Even when those from working-class backgrounds make it into prestigious jobs, they earn, on average, 16% less than colleagues from privileged backgrounds. But why is this the case? . Drawing on 175 interviews across four case studies - television, accountancy, architecture, and acting – they explore the complex barriers facing the upwardly mobile. This is a rich, ambitious book that demands we take seriously not just the glass but also the class ceiling.
About the Author
Sam Friedman is assistant professor in sociology at the London School of Economics. He is cofounder of the Stratification and Culture Research Network. Daniel Laurison is assistant professor at Swarthmore College. Previously he was at the London School of Economics and Political Science. 
 
Praise For The Class Ceiling: Why it Pays to be Privileged…
"Reading The Class Ceiling hit home in so many places I felt bruised by the end."
 
— The Guardian
"One of the most insightful works on the dynamics of inequality since Pickett and Wilkinson's The Spirit Level a decade ago."
 
— Herald Scotland
"The Class Ceiling blows apart the myth of our supposed meritocracy."
— The National
"The Class Ceiling marshals a wide range of data, analysis and experience in an accessible and readable manner. . . Rather than merely confirming suspicions, this book makes the continued existence of class bias in occupational and public life more difficult for cheerleaders of meritocracy to deny, and–crucially–offers ways to end it."
— New Humanist
"This compelling book offers a fresh approach to understanding how social class matters. Easy to read, highly recommended!"
 
— Annette Lareau, University of Pennsylvania
"Friedman and Laurison show how it can possibly be that upwardly mobile executives and professionals earn less than those raised in the upper classes. Everybody in The Class Ceiling has a desirable job, but even in the upper reaches of British society, class roots matter."
 
— Mike Hout, New York University
"This stunning book provides a panoramic overview of class inequality in the UK labour market with a forensic scrutiny of the ways in which privilege works to keep the class ceiling firmly in place."
 
— Diane Reay, University of Cambridge
"A well-conceived and important study which makes a significant contribution to knowledge about social mobility, and an important intervention into broader political debates."
— Selina Todd, University of Oxford
"Without question this is the most outstanding study of social mobility in the UK to have appeared in the past 20 years. Using a brilliant mixed method design, Friedman and Laurison trace the long shadow of class privilege in driving career prospects even in the supposedly dynamic sectors of today's knowledge economy. Anyone who thinks Britain is a meritocracy needs to ponder the lessons of this wonderful book."
 
— Mike Savage, LSE