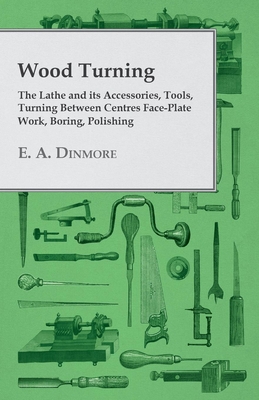 Wood Turning - The Lathe and its Accessories, Tools, Turning Between Centres Face-Plate Work, Boring, Polishing (Paperback)
Read Books, 9781447435594, 120pp.
Publication Date: October 28, 2011
* Individual store prices may vary.
Description
This early book is a comprehensive and practical guide to the fundamentals of the craft of woodturning using a traditional lathe, and is a must-have for any woodworking or wood-craft practitioner or enthusiast. Illustrated by useful diagrams and photographs, it provides advice on a variety of related topics such as face-plates, bowl turning and the appropriate tools to use. This classic handbook instructs the reader on how to successfully wield and use a shotgun for hunting, and includes guidance on safe and dangerous procedures. Illustrated with instructional diagrams and photographs, it is suited to hunting enthusiasts in addition to those new to the activity, with many details still of practical use today. Contents include: Woodworking - What This Book is About - The Wood-Turning Lathe - Accessories - Wood-Turning tools and Their Use - Turning More Difficult Work Between Centres - Face-Plate Work - Miscellaneous Work Between Centres - Split Turnings, Turned Mouldings, and Square Turning - Floor Lamp Standard and Table Lamp Boring - Simple Lathe Construction - Polishing Work On The Lathe. We are republishing this classic text in a high quality and affordable edition. It features reproductions of the original illustrations and a specially written new introduction.