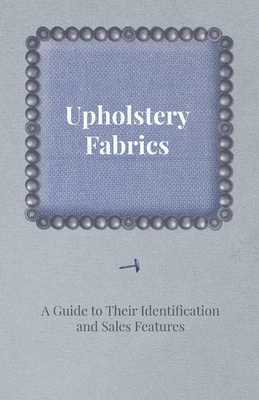 Upholstery Fabrics - A Guide to their Identification and Sales Features (Paperback)
Read Books, 9781447435945, 44pp.
Publication Date: October 28, 2011
* Individual store prices may vary.
Description
This classic handbook provides a wealth of information on traditional fabrics used in upholstery. Illustrated with helpful diagrams throughout, it is still of use to anyone interested in textiles, design and upholstering today. Contents include: A History of upholstery; A Guide for You; How Fabrics Help Sales; Three Things Make the Difference in Fabrics; What Fibers are Used - Where They Come From; What Different Fibers Look Like Magnified; Two Basic Kinds of Woven upholstery Fabrics - Pile Fabric; Why Some Fabrics Wear Better; Which Fabrics Clean Easily - Resist Soiling?; Like Sterling on Silver; A Final Word - to You - to Your Store; The Care and Cleaning of Furniture upholstery. We are republishing this vintage text in a modern and affordable edition, complete with a newly written introduction and featuring the original artwork.