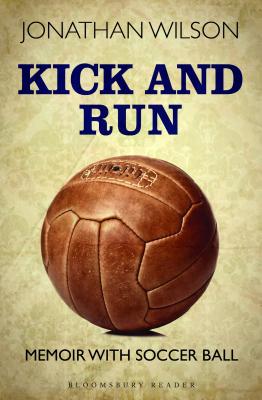 Kick and Run
Memoir with Soccer Ball
Paperback

* Individual store prices may vary.
Description
Growing up Jewish in London with a difficult home life, Jonathan Wilson had plenty of reasons to feel he didn't belong, and one reason to feel certain he did: soccer. Wilson discovered his love for the game as a young boy; through his adolescence and adulthood and well into his later years it remained an important part of his life.
Soccer became Wilson's international passport, helping him find friends and community and solace all over the globe, from England to Israel to the US. Whether working on a kibbutz or teaching literature to young Americans, traveling through Russia or raising children, the sport remained a constant in his life.
Kick and Run is a gripping, funny, sometimes heartbreaking account of a life well lived and a game played, if not always masterfully, then certainly with the utmost passion.
Bloomsbury Reader, 9781448213788, 274pp.
Publication Date: October 22, 2013
About the Author
Jonathan Wilson's fiction, essays, and reviews have appeared in The New Yorker, ARTnews, Esquire, The New York Times Magazine, The New York Times Book Review, Tablet, The Times Literary Supplement, Best Short Stories, The Best of Best Short Stories, The Paris Review Daily, and Best American Short Stories, among other publications. In 1994 he received a John Simon Guggenheim Fellowship. His work has been translated into many languages including Dutch, Hebrew, Italian, Polish, Portuguese, Russian and Chinese.
Wilson is the author of seven previous books: the novels The Hiding Room (Viking 1994), runner up for the JQ Wingate Prize, and A Palestine Affair (Pantheon 2003), a New York Times Notable Book of the Year, Barnes and Noble Discovery finalist and runner up for the 2004 National Jewish Book Award; two collections of short stories, Schoom (Penguin 1993) and An Ambulance is on the Way: Stories of Men in Trouble (Pantheon 2004); two critical works on the fiction of Saul Bellow; and a biography, Marc Chagall (Nextbook/Schocken 2007), runner-up for the 2007 National Jewish Book Award. Kick and Run is his eighth book and his first work of memoir.
Wilson currently lives in Massachusetts, where he is Fletcher Professor of Rhetoric and Debate, Professor of English and Director of the Center for the Humanities at Tufts University.