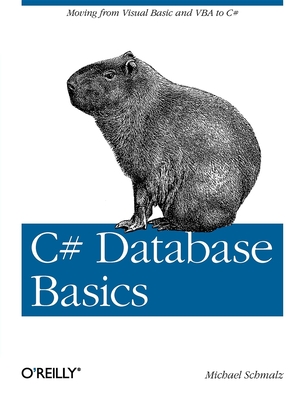 C# Database Basics (Paperback)
Moving from Visual Basic and VBA to C#
O'Reilly Media, 9781449309985, 110pp.
Publication Date: February 10, 2012
* Individual store prices may vary.
Description
Working with data and databases in C# certainly can be daunting if you're coming from VB6, VBA, or Access. With this hands-on guide, you'll shorten the learning curve considerably as you master accessing, adding, updating, and deleting data with C#--basic skills you need if you intend to program with this language.
No previous knowledge of C# is necessary. By following the examples in this book, you'll learn how to tackle several database tasks in C#, such as working with SQL Server, building data entry forms, and using data in a web service. The book's code samples will help you get started on your own projects.
Create a Windows Forms application with a datagrid Connect to multiple data sources, including Access and SQL Server Add, edit, and update data in a database you choose and design Enable users to choose their data source at runtime Learn the roles of DataTable, DataView, BindingSource, Filters, and other objects Understand where variables are declared and how they impact the code Build a simple web service that connects to a database.
About the Author
Michael Schmalz works in financial services and performs business and technology consulting in a variety of industries. He has done technical editing for O'Reilly on several Microsoft Office books and authored "Integrating Excel and Access" and "C# Database Basics". Michael has a degree in Finance from Penn State. He lives with his wife and children in Pennsylvania.