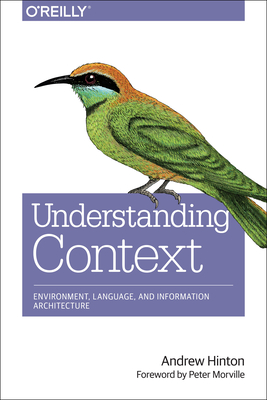 Understanding Context
Environment, Language, and Information Architecture
Paperback

* Individual store prices may vary.
Description
To make sense of the world, we're always trying to place things in context, whether our environment is physical, cultural, or something else altogether. Now that we live among digital, always-networked products, apps, and places, context is more complicated than ever--starting with "where" and "who" we are.
This practical, insightful book provides a powerful toolset to help information architects, UX professionals, and web and app designers understand and solve the many challenges of contextual ambiguity in the products and services they create. You'll discover not only how to design for a given context, but also how design participates in making context.
Learn how people perceive context when touching and navigating digital environments
See how labels, relationships, and rules work as building blocks for context
Find out how to make better sense of cross-channel, multi-device products or services
Discover how language creates infrastructure in organizations, software, and the Internet of Things
Learn models for figuring out the contextual angles of any user experience
O'Reilly Media, 9781449323172, 464pp.
Publication Date: December 15, 2014
About the Author
Andrew Hinton is an Information Architect at The Understanding Group (TUG). Since the early 90s, he's been helping clients and employers of all shapes and sizes make better information environments. Andrew is co-founder and past board member of the IA Institute, and is a frequent speaker at UX conferences. You can find links to Andrew-related things at andrewhinton.com. Learn more about his book, Understanding Context, at contextbook.com