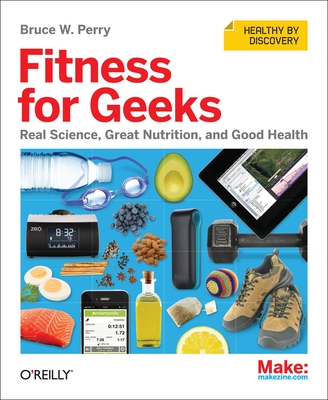 Fitness for Geeks
Real Science, Great Nutrition, and Good Health
Paperback

* Individual store prices may vary.
Description
If you're interested in how things work, this guide will help you experiment with one crucial system you usually ignore--your body and its health. Long hours focusing on code or circuits tends to stifle notions of nutrition, but with this educational and highly useful book you can approach fitness through science, whether it's investigating your ancestral health or using the latest self-tracking apps and gear.
Tune into components of your health through discussions on food, exercise, sleep, hormesis, and other issues--as well as interviews with various scientists and athletes--and discover healthy ways to tinker with your lifestyle.
Learn to live in the modern digital world and still be physically vibrant
Examine apps and widgets for self-tracking various fitness issues
Zero in on carbs, fats, proteins, vitamins, minerals, and phytochemicals
Find and choose food, and learn when to eat and when to fast
Reboot your system through movement in the outside world
Select from more than a dozen techniques for your gym workout
Fuel fitness by focusing on the science of nutrition and supplements
Apply lifestyle hacks, such as high-intensity exercise and good stress
O'Reilly Media, 9781449399894, 336pp.
Publication Date: May 8, 2012
About the Author
Bruce W. Perry played college soccer in New York, then amidst a varied career in journalism and software engineering finished literally (ask his knees!) hundreds of road races and multisport events. He's since moved on to family life and recreational alpine hiking, skiing, and resistance training. He has also written two recent software books for O'Reilly Media. After an unguided youth, he now hangs out weightlifting in gyms again, and climbs with guides now, recently Piz Palu in the Swiss Alps, Mt. Whitney's Mountaineer's Route, and Mt. Rainier.