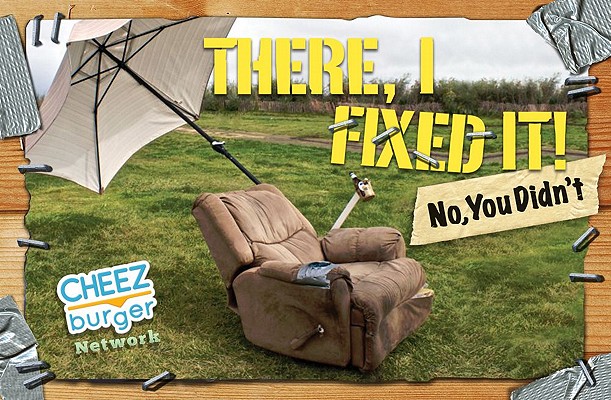 There I Fixed It! (Hardcover)
(No, You Didn't)
Andrews McMeel Publishing, 9781449400590, 224pp.
Publication Date: April 19, 2011
* Individual store prices may vary.
Description
The perfect Father's Day gift for DIY Dads. A hilarious collection of images with accompanying comments from the hugely successful (11 million page views per month) website thereifixedit.com.

Whoever coined the phrase "A picture is worth a thousand words" clearly has not stumbled upon the Cheezburger Network's ThereIFixedIt.com. Here, a picture is worth countless inaudible gasps, and we're guessing more than a few quiet stares of disbelief.

There, I Fixed It (No, You Didn't) celebrates the kludge (a quick-and-dirty, clumsy, or inelegant-yet-effective solution to a problem, typically using parts that are cobbled together) in its many incarnations as presented on the popular Web site ThereIFixedIt.com. The book features over 200 full-color images of daily kludge winners, along with the signature witty commentary that characterizes typical reactions to the hilarious DIY disasters and work-arounds.

If you're still unsure as to what qualifies, we think the minivan held together by duct tape leaves little room for confusion. After all, in that guy's defense, multiple rolls of carefully affixed duct tape are certainly cheaper than a new coat of paint (just try to avoid puddles and rain).

Certain to generate bellyache-inducing revelry, There, I Fixed It (No, You Didn't) may even inspire you to fashion your very own kludge. Please note that we give extra points to those brave enough to merge an open flame with a propane gas tank and electrical wire. Bonus points if you can then make the item travel on wheels at speeds greater than 50 miles per hour. So, home enthusiasts, would-be inventors, and all who miserably failed engineering, kludge away with the Cheezburger Network's There, I Fixed It (No, You Didn't). 
About the Author
 Cheezburger is the largest social humor destination on the Internet: it's all your funny in one place. The millions of people visiting monthly submit memes and fails, share their favorite funny images, and use Cheezburger's platform to create their own humor sites. Cheezburger has published eight books, two of which, I Can Has Cheezburger?: A LOLcat Colleckshun and How to Take Over Teh Wurld: A LOLcat Guide 2 Winning, were New York Times bestsellers. They are serious about making the world a happier place and count a passionate fan base of 24 million people who uploaded more than 15,000,000 pictures and videos of all the things they find funny every day.
or
Not Currently Available for Direct Purchase