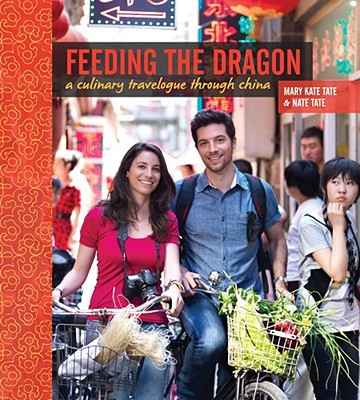 Feeding the Dragon (Paperback)
A Culinary Travelogue Through China with Recipes
Andrews McMeel Publishing, 9781449401115, 289pp.
Publication Date: October 4, 2011
* Individual store prices may vary.
Description
Young, American siblings Mary Kate and Nate Tate traveled throughout contemporary China, collecting stories, photographs, and recipes of their experiences along the way. A Chinese cookbook for the Lonely Planet set.
With little more than two backpacks, a camera, and a tarp, Mandarin-speaking American brother and sister Nate and Mary Kate Tate traveled more than 9,700 miles throughout China to share the country's inspiring culture and cuisine with kitchens in the West. What began as a travelblog (feedingthedragon.com) documenting the duo's journey has evolved into a visual narrative of food, culture, and travel inside "Feeding the Dragon."
Arranged by the authors' travel itinerary to highlight the uniqueness of nine specific regions in China, "Feeding the Dragon" is part cookbook and part cultural travelogue, overflowing with sumptuous but easily prepared authentic dishes. From Buddhist vegetarian dishes enjoyed on the snowcapped mountains of Tibet to lamb kebabs served on the scorching desert of Xinjiang Province, one hundred recipes are presented alongside first-person narratives and travel photographs.
Western cooks will find healthy recipes brimming with authentic ingredients and flavors, such as Lychee Martini and Shanghai Soup Dumplings, Pineapple Rice, Coca-Cola Chicken Wings, Green Tea Shortbread Cookies, and Wild Mushroom Salad. "Feeding the Dragon" also provides handy reference sidebars to guide cooks with time-saving shortcuts such as buying premade dumpling wrappers instead of making them from scratch, or using a blow-dryer to finish your Peking Duck. A comprehensive glossary of Chinese ingredients and their equivalent substitutions complete the book. "Feeding the Dragon" is not an Americanized adulteration of classic Chinese cuisine. Instead, the Tates offer readers and cooks a beautiful journey through Chinese history, culture, tradition, and food.
"This is a heartwarming and often gripping tale of a brother-sister team who bike back roads, slog muddy fields, trudge across mountains, and navigate ancient alleyways to explore the kitchens and culinary soul of China. The recipes they gather from China's wonderfully hospitable people will tantalize your taste buds as Nate and Mary Kate's decade-long adventure inspires your sense of wanderlust." --James McGregor, author of "One Billion Customers: Lessons from the Front Lines of Doing Business in China"
""Feeding the Dragon" is a stunning achievement; it's a foodie's Far East fantasy come true, with pictures and recipes to match." --Adam Roberts, creator of The Amateur Gourmet
"The Tate siblings are my kind of travelers, my kind of eaters, and my kind of cooks. In "Feeding the Dragon," they have combined adventure travel, history, and culture to create a personal, fun, and interesting cookbook. The photos, recipes, and stories are all fabulous. I love this cookbook " --Lisa See, author of "Snow Flower and the Secret Fan" and "Shanghai Girls.
About the Author
Nate Tate was one of the first Texas college students to study at Beijing's prestigious Tsinghua University. He is a self-professed Chinese food obsessive, and in his quest to master the cooking of Chinese food, he has talked his way into restaurant kitchens across China to learn straight from the cooks. He has toured seventeen of China's twenty-two provinces, and while living in Beijing, Nate worked as a restaurant designer and as an art director at an international advertising agency. In New York City, he cofounded a creative agency with his sister.

Online:

feedingthedragon.blogs.com

Mary Kate Tate first became interested in China after visiting the faraway country as a high school student. She later studied Mandarin and Chinese history at the University of Texas at Austin and at Nanjing Normal University in China. In addition to cofounding a creative agency with her brother and working as a copywriter in New York City, she has worked as a teacher in China's Hebei Province and as a writer in Beijing.

Online:

feedingthedragon.blogs.com
or
Not Currently Available for Direct Purchase