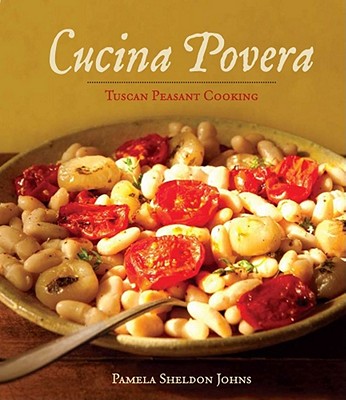 Cucina Povera (Hardcover)
Tuscan Peasant Cooking
Andrews McMeel Publishing, 9781449402389, 192pp.
Publication Date: September 13, 2011
* Individual store prices may vary.
Description
"Good food for hard times" – Italian comfort foods from the heart of Tuscany based on peasant-inspired dishes.

"Brava, Ms. Sheldon Johns, for bringing this cooking to us with such grace, and with a reverence that goes to the heart of the Italian cuisine." --InMamasKitchen.com

"Cucina Povera is a delightful culinary trip through Tuscany, revered for its straightforward food and practical people. In this beautifully photographed book you will be treated to authentic recipes, serene landscapes, and a deep reverence for all things Tuscan." --Mary Ann Esposito, the host of PBS' Ciao Italia and the author of Ciao Italia Family Classics

The no-waste philosophy and use of inexpensive Italian ingredients (in Tuscan peasant cooking) are the basis for this lovely and very yummy collection of recipes. --Diane Worthington, Tribune Media Services

Italian cookbook authority Pamela Sheldon Johns presents more than 60 peasant-inspired dishes from the heart of Tuscany inside Cucina Povera. This book is more than a collection of recipes of "good food for hard times." La cucina povera is a philosophy of not wasting anything edible and of using technique to make every bite as tasty as possible. Budget-conscious dishes utilizing local and seasonal fruits and vegetables create everything from savory pasta sauces, crusty breads and slow-roasted meats to flavorful vegetable accompaniments and end-of-meal sweets.

The recipes inside Cucina Povera have been collected during the more than 20 years Johns has spent in Tuscany. Dishes such as Ribollita (Bread Soup), Pollo Arrosto al Vin Santo (Chicken with Vin Santo Sauce), and Ciambellone (Tuscan Ring Cake) are adapted from the recipes of Johns' neighbors, friends, and local Italian food producers. Lavish color and black-and-white photographs mingle with Johns' recipes and personal reflections to share an authentic interpretation of rustic Italian cooking inside Cucina Povera.
About the Author
 Pamela Sheldon Johns is a well-known cooking instructor and the host of culinary workshops throughout Italy. She has authored 14 cookbooks, many specializing in Italian food, such as Parmigiano! and Balsamico! Pamela has spent 20 years exploring and writing about the back roads of Italian food culture. She hosts many of her food and wine workshops from her farm in Tuscany, which was recently featured as one of the top 20 culinary workshops in Italy by Food & Wine magazine. She returns to the U.S. several times a year to teach cooking classes and promote her cookbooks.