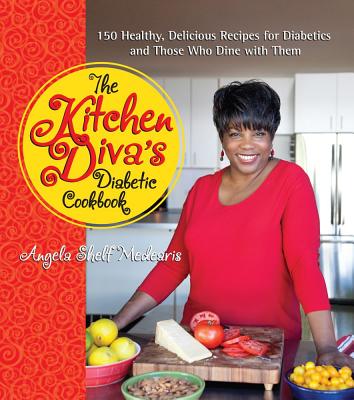 The Kitchen Diva's Diabetic Cookbook (Paperback)
150 Healthy, Delicious Recipes for Diabetics and Those Who Dine with Them
Andrews McMeel Publishing, 9781449402396, 272pp.
Publication Date: April 24, 2012
Description
Angela Medearis is the Kitchen Diva, a popular, regular guest chef on The Dr. Oz Show. In this cookbook she gives readers 150 of her healthy, signature diabetic recipes packed with flavor that both diabetic and non-diabetic family members will love.
"The Kitchen Diva's Diabetic Cookbook" is an inspirational collection of more than 150 simple, flavorful, budget-friendly recipes that address the dietary needs of prediabetics, juvenile diabetics, type 1 and type 2 diabetics, women with gestational diabetes, people with diabetic-related complications, and anyone seeking to embrace a healthier diet and lifestyle.
These recipes are a modern twist on comfort food and incorporate healthy ingredients and spices designed to help keep diabetics' insulin levels in balance. You'll find recipes featured on "The Dr. Oz Show," such as Buttermilk Pecan-Crusted Tilapia and Diva-licious Potpie, along with everyday favorites, such as Apple-Stuffed Waffle Sandwiches, Jerk Chicken Salad with Tropical Fruit Dressing, Roasted Tomatoes Stuffed with Lemon and Herb Cauliflower Couscous, and Easy Fruit Cobbler.
A detailed nutritional and caloric analysis is included with each recipe to ensure that daily nutritional requirements are met. It's the perfect cookbook for anyone seeking a variety of imaginative, healthy, and delicious recipes suitable for all diabetics and those who dine with them.
"I have been a fan of Angela Shelf Medearis for years. This cookbook is a must have. It is chock-full of delicious recipes and excellent information for people with diabetes or anyone who enjoys good, healthy foods." --Charlotte Lyons, former food editor for "Ebony" magazine
"Filled with delicious, inventive recipes, "The Kitchen Diva's Diabetic Cookbook" offers much more than a great resource for families who struggle with challenges of meal planning for diabetics. As in all of Medearis's cookbooks, the recipes are family friendly, well written, and easy for even beginning cooks to follow. I'm adding it to my list to give as gifts to all the busy family cooks in my life." --Donna Pierce, BlackAmericaCooks.com and SkilletDiaries.com, former assistant food editor for the "Chicago Tribune.
About the Author
Angela Shelf Medearis is known as The Kitchen Diva. She is an award-winning author of more than ninety children's books and six cookbooks. She's a culinary historian; a chef; a food writer; president of Diva Productions, Inc.; and a motivational speaker who focuses on ways to feed the body and the soul. Medearis hosts her own show, "The Kitchen Diva!," which airs on hulu.com. She is a popular, regular guest chef on "The Dr. Oz Show," the "Today" show, and the "Fox Good Day" newscasts, and has appeared on the Food Network's "Throwdown with Bobby Flay," which she won. She lives with her husband and family in Austin, Texas.

Online:

medearis.com
Advertisement