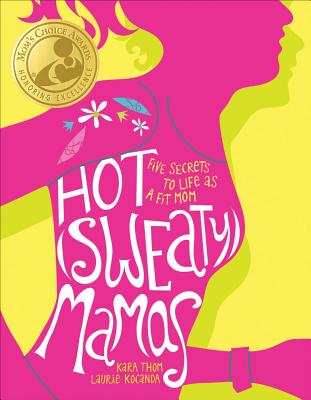 Hot (Sweaty) Mamas (Paperback)
Five Secrets to Life as a Fit Mom
Andrews McMeel Publishing, 9781449402457, 196pp.
Publication Date: March 29, 2011
* Individual store prices may vary.
Description
The essential guide for all moms, with kids of any age, who want to include fitness in their lives and raise a healthy family, but they are struggling to balance the demands of parenthood and busy multitasking lifestyles. Authors, moms, and fitness enthusiasts Kara Douglass Thom and Laurie Kocanda work to balance motherhood and fitness. They know other moms struggle to make exercise a priority in their lives because they speak with similarly minded women at seminars and on their blogs. It was from these conversations--and the interest in them--that the idea for Hot (Sweaty) Mamas was born. This book is perfect for every mom or mom-to-be thinking about starting an exercise program, as well as moms already pursuing their fitness goals. Hot (Sweaty) Mamas reaches a wider audience than other fitness books that merely focus on "getting your prebaby body back" by presenting advice on how to pursue fitness despite a busy schedule, how to carve out time with or without kids to work out, and how to get the support needed to pursue fitness goals. Moms who find it difficult to start or stick with an exercise program will learn how to reframe their thinking. Women who continue to work out and struggle with the guilt sometimes associated with taking "me time" will be reassured. Mothers-to-be will feel better prepared to pass a legacy of health and fitness to their children and make fitness and motherhood coexist. Thom and Kocanda reveal the secrets to being a fit mom inside Hot (Sweaty) Mamas.
About the Author
Laurie Kocanda has served as editor of the "Twin Cities Sports" and "Midwest Events" magazines, and her work, which focuses on fitness, family, women's issues, and pregnancy, has appeared in national magazines. She blogs about fitness and mothering at seemomsweat.blogspot.com, and she has completed over 35 marathons and two Ironman triathlons. Laurie is mom to two daughters, aged nine and five.

Online:

hotsweatymamas.com

Kara Douglass Thom is a freelance writer and editor specializing in health, fitness, multisport, pregnancy, and parenting topics, and she blogs about fitness and motherhood at mamasweat.blogspot.com. She is the author of two books and has written for numerous periodicals. Kara has been a runner and triathlete for 20 years, and she is mom to seven-year-old twin girls, a six-year-old daughter, and a two-year-old son.

Online:

hotsweatymamas.com