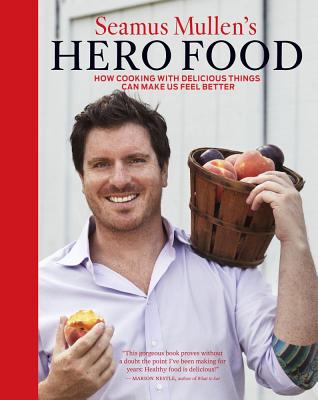 Seamus Mullen's Hero Food (Hardcover)
How Cooking with Delicious Things Can Make Us Feel Better
Andrews McMeel Publishing, 9781449407582, 320pp.
Publication Date: April 24, 2012
* Individual store prices may vary.
Description
Celebrity chef Seamus Mullen offers 130 healthy and tasty recipes that utilize 18 key ingredients, or "hero foods," to improve your well-being.

"After being diagnosed with rheumatoid arthritis, Manhattan restaurateur Mullen modified his diet to improve his well-being. His debut cookbook, which pairs traditional Spanish cuisine with rustic farm-to-table fare, highlights 18 ingredients ("Hero Foods") that help him manage his symptoms. Ajo Blanco with Sardine Confit and Octopus and Parsley Salad reflect Mullen's years of work and travel in Spain, while Crispy Tuscan Kale on the Grill and Slow-Roasted Lamb Shoulder highlight the bounty of his Vermont farm. Mullen's personal success lends clout to this study in holistic, inclusive eating." --Library Journal

From celebrity chef Seamus Mullen, Hero Food is not only a cookbook, but a personal philosophy of well-being. The subtitle says it all: "How Cooking with Delicious Things Can Make Us Feel Better."

Mullen was diagnosed with rheumatoid arthritis five years ago, and in that time, he has discovered how incorporating 18 key ingredients into his cooking improved his quality of life. In Hero Food, he shows how to make these key ingredients, or "hero foods," your cooking friends; they can be added to many dishes to enhance health and flavor.

Hero Food is divided into four sections, each devoted to a season. Each season is introduced with a richly imaged "movie," providing the context of Seamus's life and the source of many of the imaginative and beautiful recipes contained in each seasonal section.

Seamus's "heroes" are real food, elemental things like good meat, good birds, eggs, greens, grains, and berries. He cares about how his vegetables are grown, how his fruit is treated, and about the freshness and sustainability of the fish he uses. His hope is that you will eventually forget about why these recipes are good for you, and that you'll make them just because they taste good.
About the Author
Raised on an organic farm in Northeastern Vermont, Seamus Mullen learned early on the value of working with the land to bring a meal to the table. It was while living and studying in Burgos, Spain, that he developed a life-long love affair with the country's language, culture, and food.

Following his passion for food, Mullen moved to California to work with Chef Mike Fennelly at Mecca in San Francisco, where he was exposed to the bounty of West Coast seasonal produce. After relocating to New York City, he went on to open Crudo, where he conceptualized and created its Mediterranean-inspired menu. In 2003, Mullen returned to Spain and worked for six months at Mugaritz, Andoni Luis Aduriz's forward-thinking Michelin two-starred restaurant in the Basque country.

When Mullen returned to New York, he worked as executive sous chef at New York City's Brasserie 8 1/2, alongside executive chef Julian Alonzo. In 2006, he left to open Boqueria, an accessible Spanish tapas restaurant, and then expanded to Boqueria Soho in fall 2008. He plans to open Tertulia in the West Village in Fall 2011.