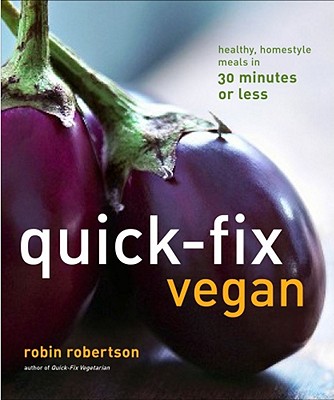 Quick-Fix Vegan (Paperback)
Healthy, Homestyle Meals in 30 Minutes or Less (Quick-Fix Cooking #4)
Andrews McMeel Publishing, 9781449407858, 224pp.
Publication Date: October 4, 2011
* Individual store prices may vary.
Description
150 quick and easy vegan recipes all made in 30 minutes or less from a well-loved, best-selling author in the vegan community.

"Robertson cuts to the chase and puts together good food simply. If you were thinking of slapping together a sandwich, you may as well make one of hers, full of vibrant veggies and flavors, instead of the same old pb and j. It doesn't really take much more time... "It was a real pleasure making dishes from the book. Like everyone else, I don't have a ton of time, so quick is always good. Reading and cooking from Robertson's recipes, I admire the way her mind works. As a fellow recipe developer, I can appreciate a well-crafted recipe. These recipes are simplified, but still interesting, and follow the shortest path from point A to point B. Simple looks easy, but it takes skill to make it that way. I also appreciate the use of whole foods, like beans, nuts and seeds, and the near absence of mock meats. Just because you are in a hurry doesn't mean you have to go in for vegan bologna or burgers every night, in Robertson's kitchen." --Robin Asbell's The New Vegetarian

Following on the success of Quick-Fix Vegetarian, Robin Robertson's Quick-Fix Vegan provides 150 new vegan recipes ranging from starters, snacks, salads, sauces, and sandwiches to stovetop suppers, pastas, soups, and desserts that can all be prepared in 30 minutes or less. Quick-Fix Vegan also features "Make-Ahead Bakes," convenient recipes that are assembled ahead of time (in less than 30 minutes) and then baked before serving.

Quick-Fix Vegan draws upon a myriad of ethnic influences including French, Mexican, Moroccan, Mediterranean, Greek, Cajun, East Asian, Italian, and Middle Eastern, and features recipes such as Spicy Black Bean Hummus with Orange, Korean Hotpot, Rotini with Creamy Avocado-Herb Sauce, Moroccan-Spiced Pumpkin Soup, BBQ Pinto-Portobello Sandwiches, Burmese Ginger Salad, Autumn Harvest Gratin, and Catalan-Style Creme Brulee.

An introductory chapter provides the reader with basic information on how to maintain a "quick-fix" vegan kitchen including pantry suggestions and kitchen tips, as well as basic recipes for ingredients such as homemade vegetable stock and seitan. Cooks of all skill levels will find that the recipes inside Quick-Fix Vegan are just as delectable and adaptable to the omnivore, as they are essential to the vegan lifestyle.

Quick-Fix Vegan is a companion volume of Robin Robertson's Quick-Fix Vegetarian.
About the Author
Robin Robertson is the author of more than twenty cookbooks, including the best-sellers Vegan Planet, Fresh from the Vegan Slow Cooker, Quick-Fix Vegan, and One-Dish Vegan. A longtime vegan and former restaurant chef, she has written for VegNews Magazine, Vegetarian Times, Cooking Light, and other magazines. Robin lives in the Shenandoah Valley of Virginia. See her books at www.robinrobertson.com.
or
Not Currently Available for Direct Purchase