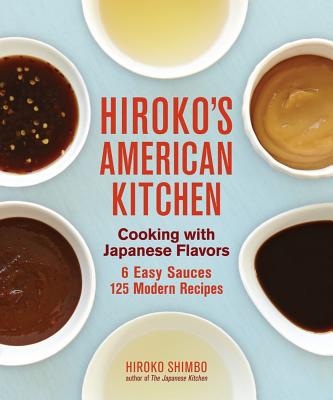 Hiroko's American Kitchen: Cooking with Japanese Flavors (Paperback)
Cooking with Japanese Flavors
Andrews McMeel Publishing, 9781449409784, 215pp.
Publication Date: October 30, 2012
Description
Incorporating Japanese flavors into your everyday Western menu is simple using six easy sauces to create 125 quick and delicious recipes. Well-loved best-selling cookbook author Hiroko Shimbo shares the key to marrying Japanese and Western flavors.
You love Japanese food. You enjoy it at restaurants whenever you can. But what you really want to do is to prepare it in your own kitchen. That's easy using Hiroko Shimbo's classic books, The Japanese Kitchen and The Sushi Experience. But wait: Can you find the ingredients? Can you take the time to prepare it? Your friends, family, significant other--will they relish these "foreign" dishes the way you do?
Hiroko's American Kitchen provides answers to all of those questions. Here there are 125 new recipes that highlight the best of Japanese cuisine, but in new, simpler ways. The recipes are organized in chapters, each using one of two stocks or four sauces. By preparing and storing these easily made items, with a minimum of time and fuss you can enjoy a wide variety of delicious dishes every day. These are recipes that use the ingredients that you have or can easily purchase, and are prepared and served in dishes that are familiar to American tastes and dining habits. In other words, delicious, healthful Japanese dishes designed for the American kitchen and the American diner. The recipes include Corn and Ginger Rice with Shoyu and Butter, Quick Gingered Pork Burger, Chunky Potato and Leek Soup with Miso, Avocado and Yellowfin Tuna Salad, and Curried Miso Peanuts. This is not fusion or confusion cooking, but a respectful extension of traditional Japanese cooking to bring to your table.
About the Author
Hiroko Shimbo is an authority on Japanese cuisine, with worldwide recognition. A chef-consultant for restaurants and food companies, Hiroko is also a trained sushi chef, author, media performer, and chef-instructor. Hiroko operates Hiroko's Kitchen, LLC, a consulting company, in New York City.

Hiroko's award-winning, best-selling book, "The Japanese Kitchen, "an International Association of Culinary Professionals award finalist and Best of The Best Award by "Food & Wine, "has become the bible for both professional chefs and home cooks. "The Japanese Kitchen "has been translated into Spanish and published in Spain, as "La Cocina Japonesa." Hiroko's second book, "The Sushi Experience, "a James Beard Foundation Award nominee and Gourmand International Award finalist, U.S. section, is the most comprehensive treatment of sushi published in English. The book continues to attract professionals and home cooks.

Hiroko has a growing list of clients in the restaurant and food-service industry. She has recently been the principal adviser to the developers of an authentic Japanese curry restaurant, KARE-KEN, in San Francisco, and now serves as the restaurant s executive chef.Hiroko's current restaurant project is the establishment of a quick-service fresh-sushi restaurant in New York City. Hiroko has provided recipe, menu-development, and other services, including demonstrations and lectures to companies, such as New York Mutual Trading Company, Zojirushi America Corporation, JETRO (Japan External Trade Organization), AVI Foodsystems, Inc., Bon Appetit Management Company, Unilever, UMass Dining, P.F. Chang's China Bistro, and Ruth's Chris Steak House. Hiroko offers Japanese cooking courses The Essentials of Japanese Cuisine at the French Culinary Institute/International Culinary Center in New York City. She is also a frequent guest chef at Worlds of Flavors Conference at the Culinary Institute of America, Greystone, in Napa Valley, California. Hiroko appears in the media and online through her own Web site, hirokoskitchen.com, through herblog, and through Twitter @hirokoshimbo, as well as on such services as About.com.

Hiroko is a member of the Women Chefs and Restaurateurs, Culinary Historians of New York, The Author's Guild, and is a sushi adviser for the Blue Ocean Institute."
Advertisement