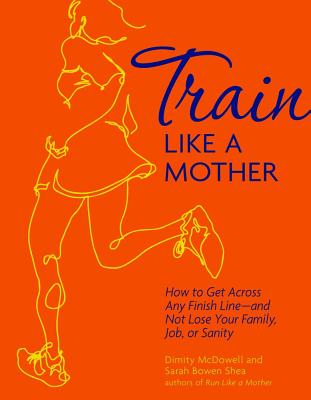 Train Like a Mother
How to Get Across Any Finish Line - and Not Lose Your Family, Job, or Sanity
Paperback

* Individual store prices may vary.
Description
From the authors of the "run" away success Run Like a Mother, a book that fans are clamoring for on how to train for a race, including practical advice on all aspects of race preparation presented with the authors' trademark wit and empathy.

At its core, Train Like a Mother comprehensively covers how to train for a race, including training plans for four race distances (5K, 10K, half-marathon, and marathon) for both beginner and more experienced runners; the importance of recovery; pre- and post-race nutrition; strength training; injury prevention (and rehab); and everything busy women need to know to add racing to their multitasking schedules. It is all presented with the same wit, empathy, and tone the avid fans connect and identify with.

The book is divided into 13.1 chapters—the distance of a half-marathon, the sweet spot for many mother runners—narrated by both Sarah and Dimity. Like the first book, Train Like a Mother chapters have plenty of sidebars, including Practical Motherly Advice (helpful information about training- and race-related advice), Take It from a Mother (advice and answers from the growing tribe of running moms), and Racy Talk (entertaining, race-related stories from the authors and other moms). The .1 sections are entertaining "commercial breaks" celebrating the sport of running and the added thrill of racing.
Praise For Train Like a Mother: How to Get Across Any Finish Line - and Not Lose Your Family, Job, or Sanity…
"It's the perfect book for any mother runner--from brand new runners to ultramarathoners." (Examiner.com)
Andrews McMeel Publishing, 9781449409869, 240pp.
Publication Date: March 20, 2012
About the Author
 A veteran of eight marathons with a competitive streak a mile long, Sarah Bowen Shea is a freelance writer specializing in fitness, health, gear, and parenting. She contributes to a variety of publications, including
Shape, SELF, Runner's World, Whole Living
, and the
New York Times
. She lives in Portland, Oregon, with her husband, Jack, and three young children, including boy-girl twins.
Online:
anothermotherrunner.com
 A dedicated if not natural runner, Dimity McDowell writes regularly about sports and fitness for a range of magazines, including
Runner's World
and
ESPN: The Magazine
. She lives and runs (at 5,280 feet) in Denver, Colorado, with her husband, Grant, two kids, and two dogs.
Online:
anothermotherrunner.com
or
Not Currently Available for Direct Purchase