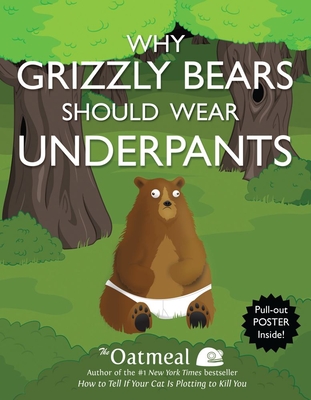 Why Grizzly Bears Should Wear Underpants [With Poster] (Paperback)
Andrews McMeel Publishing, 9781449427702, 162pp.
Publication Date: October 8, 2013
Description
Why Grizzly Bears Should Wear Underpants is the second variety comic collection and fourth book from the comedic mastermind behind TheOatmeal.com, Matthew Inman. Classics from the website, including "Dear Sriracha Rooster Sauce," "What It Means When You Say Literally," and "What We Should Have Been Taught in Our Senior Year of High School," are featured alongside never-before-seen works of epic hilarity that will delight veteran and newbie Oatmeal fans alike.
Matthew Inman's first collection of The Oatmeal.com spent six weeks on the New York Times bestseller list and sold 200,000 copies. This pivotal and influential comic collection titled 5 Very Good Reasons to Punch a Dolphin in the Mouth introduced Samurai sword-wielding kittens and informed us on how to tell if a velociraptor is having pre-marital sex. Matthew's cat-themed collection How to Tell If Your Cat Is Plotting to Kill You is a #1 New York Times bestseller with more than half a million copies in print. Now with Why Grizzly Bears Should Wear Underpants, Inman offers a delicious, tantalizing follow-up featuring all new material that has been posted on the site since the publication of the first book plus never-before-seen comics that have not appeared anywhere. As with every Oatmeal collection, there is a pull-out poster at the back of the book.
In this second collection of over 50 comics, you'll be treated to the hilarity of "The Crap We Put Up with Getting On and Off an Airplane," "Why Captain Higgins Is My Favorite Parasitic Flatworm," "This Is How I Feel about Buying Apps," "6 Things You Really Don't Need to Take a Photo of," and much more. Along with lambasting the latest culture crazes, Inman serves up recurrent themes such as foodstuffs, holidays, e-mail, as well as technological, news-of-the-day, and his snarky yet informative comics on grammar and usage. Online and in print, The Oatmeal delivers brilliant, irreverent comic hilarity.
About the Author
TheOatmeal.com is an entertainment Web site full of comics, quizzes, and stories. The site gets more than 7 million unique visitors and 30 million page views a month; 250,000 blogs and Web sites have linked to it. TheOatmeal.com is written, drawn, and coded by Matthew Inman, a king of all trades when it comes to the Web. Matthew lives in Seattle, Washington. He subsists on a steady diet of crickets and whiskey. He enjoys long walks on the beach, gravity, and breathing heavily through his mouth. His dislikes include scurvy, typhoons, and tapeworm medication.
Advertisement