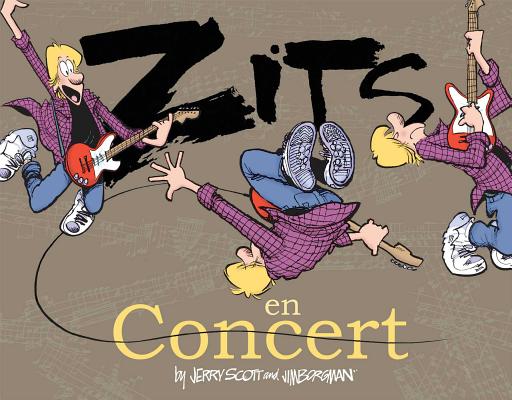 Zits en Concert
A Zits® Treasury
Paperback

* Individual store prices may vary.
Description
 

In their immensely popular comic strip Zits, Pulitzer Prize-winning artist Jim Borgman and writer Jerry Scott have succeeded in creating one of the most poignant, realistic, and funny portrayals of teenagers found in any medium today.

Sixteen-year-old Jeremy Duncan is a high school freshman and an aspiring musician. He daydreams about the day when his band, Goat Cheese Pizza, records their first monster hit single and they all pile into his van for their cross-country, sold-out concert tour. Between naps, study hall, and band practice, Jeremy still manages to find time to be the star of the hugely popular comic strip, Zits.


Jeremy is a good kid. He is intelligent and kind, yet he still has the attitude that one would expect from a teenager. His unpredictable mood swings and monosyllabic answers to his parents' mild-mannered questions often leave them baffled and bemused.

The creators, who are parents themselves, have a keen insight into the many physical and emotional changes that teens go through during adolescence, and they have the gift of addressing these common dilemmas with compassion and humor.
Andrews McMeel Publishing, 9781449430573, 208pp.
Publication Date: October 15, 2013
About the Author
Jerry Scott is the co-creator of the award-winning comic strip Zits. He lives in central coastal California. Jerry's work on Baby Blues has delighted fans and wowed the cartooning world since he launched the strip with Rick Kirkman in 1990.
 

Co-creator Jim Borgman and his wife are the proud parents of five children. He has also won a Reuben Award and a Pulitzer Prize. Both he and Jerry have LOTS of experience with teenagers.
or
Not Currently Available for Direct Purchase