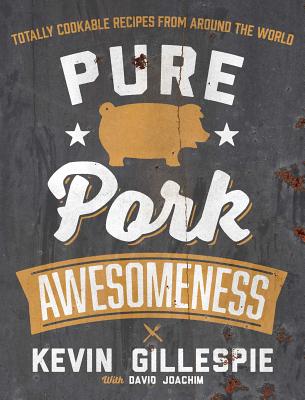 Pure Pork Awesomeness (Paperback)
Totally Cookable Recipes from Around the World
Andrews McMeel Publishing, 9781449447076, 240pp.
Publication Date: March 31, 2015
* Individual store prices may vary.
Description
Highly respected Atlanta chef, 2016 James Beard Award nominee for Best Chef Southeast, and season six Top Chef Fan Favorite Kevin Gillespie shares his unbounded passion for pork in 100 unique recipes with global flavors. Everything you need to know about selecting, cooking, and enjoying pork is included within, along with over 100 full-color photographs. "Like Bubba Gump and his shrimp, I have a million ways to cook pork because I love it so much. If I had only one animal to eat forevermore, I would eat pigs. You could have a pork chop one day, pulled pork another, and cured bacon the next day, and they'd all taste completely different. You can't do that with chicken. Chicken tastes like chicken no matter what part of the animal you eat. And I love beef and lamb, but they don't have the amazing versatility of pork. Pork can be the star of the show or a background flavor. But no matter where it shows up, pork is always welcome on my table."
---from the introduction, Kiss a Pig On Bravo TV's season six of Top Chef, Kevin Gillespie became known for his love of pork. He literally wears it on his sleeve with his forearm tatoo. His first book, Fire in My Belly, a James Beard Award finalist, included his famous Bacon Jam. Now he shares his passion and love of pork in a book devoted entirely to the subject. Pure Pork Awesomeness celebrates pork's delicious versatility with more than 100 easy-to-follow recipes. Dig into everything from Bacon Popcorn and Bourbon Street Pork Chops to Korean Barbecued Pork Bulgogi, Vietnamese Spareribs with Chile and Lemongrass, and Banoffee Trifle with Candied Bacon. Organized like the pig itself, recipes use every cut of pork from shoulder and tenderloin to pork belly and ham. Find out how to buy the best-tasting pork available, differences among heritage breeds of pigs, and what to do with new cuts like "ribeye of pork." . . all from a witty, talented chef who knows the ins and outs of cooking pork at home.
About the Author
Chef Kevin Gillespie's true passion lies in incorporating fresh, organic, and sustainable ingredients in all of his dishes. After graduating with honors from the Art Institute of Atlanta, the Georgia native worked in top restaurants in Atlanta and Oregon before opening his first restaurant, Gunshow, in May 2013. Gillespie was one of the final three cheftestants on sseason six of Bravo's Top Chef and was voted Fan Favorite. He has been named a finalist for the 2016 James Beard Foundation's Best Chef Southeast, nominated for Food & Wine's People's Best New Chef and named to Forbes' 30 Under 30 for his outstanding accomplishments in the restaurant industry. As a rising young culinary star who was bringing more than just good food to the table, Gillespie was named one of Mother Nature Network's top 40 Chefs Under 40 in November 2009 for linking farms to forks and promoting better health for people and the planet. In February 2010, he was honored as one of Gayot.com's Top Five Rising Chefs. His debut cookbook, Fire in My Belly, was selected as a James Beard Award F\finalist. Gillespie is a member of Slow Food Atlanta, Southern Foodways Alliance, Chefs Collaborative, Community Farmers Markets Chefs Advisory Board, Georgia Organics, and the Society for the Preservation of Traditional Southern Barbecue. He owns three restaurants: Gunshow in Atlanta which also operates a BBQ catering business called Terminus City, and a second restaurant called Revival in Decatur. It is based on the Southern concept of meat-and-three; just like going to Grandma's for Sunday dinner, but available every day. For more information, please visit chefkevingillespie.com. David Joachim has authored, edited, or collaborated on more than 40 cookbooks. His first book with Kevin Gillespie, Fire in My Belly, was a James Beard Award finalist. His A Man, A Can, A Plan series of books has sold more than 1 million copies. He writes a column in Fine Cooking magazine called "The Science Of...," and he co-owns Chef Salt, a line of artisanal seasonings that feature unrefined salts from around the world.