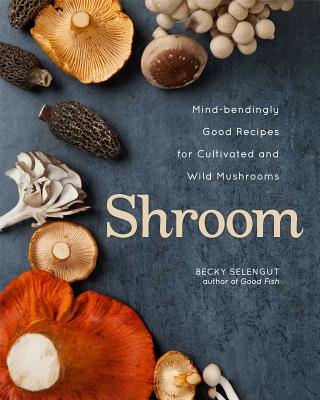 Shroom (Hardcover)
Mind-bendingly Good Recipes for Cultivated and Wild Mushrooms
Andrews McMeel Publishing, 9781449448264, 240pp.
Publication Date: September 9, 2014
* Individual store prices may vary.
Description
 Chef and cooking teacher Becky Selengut's Shroom feeds our enduring passion for foraged and wild foods by exploring 15 types of mushrooms, including detailed how-to's on everything home cooks need to know to create 75 inventive, internationally-flavored mushroom dishes.

The button mushroom better make room on the shelf. We're seeing a growing number of supermarkets displaying types of mushrooms that are leaving shoppers scratching their heads. Home cooks are buying previously obscure species from growers and gatherers at local farmers markets and adventurous cooks are collecting all manners of edible mushrooms in the woods. People are asking the question, "Now that I have it, what do I do with it?" Home cooks and chefs alike will need a book and an educated guide to walk them through the basics of cooking everything from portobellos and morels to chanterelles and the increasingly available, maitake, oyster, and beech mushrooms.

Shroom is that book and Chef Becky Selengut is that tour guide. In a voice that's informed, but friendly and down-to-earth, Selengut's Shroom is a book for anyone looking to add mushrooms to their diet, find new ways to use mushrooms as part of a diet trending towards less meat, or diversify their repertoire with mushroom-accented recipes inspired from Indian, Thai, Vietnamese and Japanese cuisines, among others. Recipes include Maitake Tikka Masala, King Trumpet and Tomato Sandwiches with Spicy Mayo, and Hedgehog Mushrooms and Cheddar Grits with Fried eggs and Tabasco Honey. Written in a humorous voice, Becky Selengut guides the home cook through 15 species-specific chapters on mushroom cookery with the same levity and expertise she brought to the topic of sustainable seafood in her IACP-nominated 2011 book Good Fish. Selengut's wife and sommelier April Pogue once again teams up to provide wine pairings for each of the 75 recipes.
About the Author
 When she's not squid jigging, fishing or cavorting through the woods picking wild things for her next meal, Becky Selengut is a private chef, author, humorist and cooking teacher. A regular instructor for PCC Natural Markets since 2004, Selengut is also an adjunct professor in the culinary/nutrition department at Bastyr University. Selengut is the author of Good Fish: Sustainable Seafood Recipes from the Pacific Coast (Sasquatch 2011). Her wife, sommelier April Pogue contributed the wine pairings. Shroom will be her third book. In the near future, Selengut hopes to clone herself so she can find the time to do more of these fun things other people call 'work'.
Praise For Shroom: Mind-bendingly Good Recipes for Cultivated and Wild Mushrooms…
Chosen as one of the Best Cookbooks of 2014 by NPR:

"I think it's fair to say that most professional cooks are generalists, as comfortable breaking down a game bird as they are layering a ratatouille. Pastry chefs excepted, it's rare for them to focus on just one tiny corner of the food pyramid. But Seattle-based chef Becky Selengut has a thing for fungi, and we should all be grateful for that.

Chapter by chapter, Shroom offers up a careful selection of just 15 relatively easy-to-find varieties. The recipes are tributes to each mushroom's specific character: meaty shiitakes standing up to soy and fish sauce and glamming it up over plain rice; delicate-flavored, buttery chanterelles gently jostled among aromatics and herbs; woodsy black trumpets enhanced with smoke and wine; costly truffles married with rich meats. And because readily available dried mushrooms are in many cases even more powerful than their fresh counterparts, you can commune with your inner hobbit both in and out of season."

(T. Susan Chang, NPR)

"Shroom" is both a primer that should sit on every kitchen shelf and a class with a chef..."

"The photography is amazing..."

"...you'll be a better person for having flipped through the pages." (Sarah Platanitis, Mass Live)
or
Not Currently Available for Direct Purchase