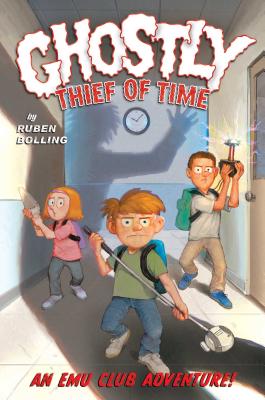 Ghostly Thief of Time (Hardcover)
An EMU Club Adventure
Andrews McMeel Publishing, 9781449457105, 144pp.
Publication Date: November 3, 2015
* Individual store prices may vary.
Description
The EMU Club is called into action again when they realize that the school janitor is an evil ghost trying to disrupt the flow of time!

"There's no mystery—the EMU Club is a hit! This is a fun, funny adventure that kids will love to read."
—Lincoln Peirce, author of Big Nate

"The EMU Club inhabits exactly the world I always hoped to live in when I was 12, when the answer to questions like 'Where did I put my toy' led to inevitably to alien conspiracies and secret underground tunnels. A book for the curious and the adventurous!"
—Cory Doctorow, author of Down and Out in the Magic Kingdom and Little Brother.

"An adventure so funny you'll think it couldn't be true—but if it isn't true, then where did all those realistic-looking photographs come from? You'd better read this so you'll know what to do when the world ends." —Adam Rex, author of The True Meaning of Smekday

My name is Stuart Tennemeier, and I'm the President of the EMU Club (Exploration-Mystery-Unbelievable Club). This is my report of our second mission.

Once you've solved one great mystery involving alien cats and a robotic dog, how do you find a second one that is just as awesome to solve? Not huge crimes or weird stuff, but everyday mysteries that happen to everyone, like why does time seem to pass more slowly right before school ends? And at other times, like when you're watching your favorite TV show it seems to pass really quickly?

There are tons of little mysteries all around us. Sometimes if you look really, really, closely at them, you find out some amazing, incredible things. And you just might save the world.

 
About the Author
 Ruben Bolling started Tom the Dancing Bug while a student at Harvard Law School, from which he graduated in 1987. He launched the strip professionally in a small New York City newspaper in 1990 and self-syndicated until Universal Press Syndicate signed it up in June 1997. Bolling lives in New York City with his wife and three children.
Praise For Ghostly Thief of Time: An EMU Club Adventure…
"Ruben Bolling is one of my cartooning heroes, and The EMU Club Adventures is seriously, mysteriously funny!" (Jeff Kinney)