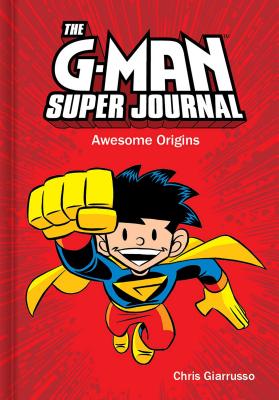 The G-Man Super Journal
Awesome Origins
Hardcover

* Individual store prices may vary.
Description
"The world needs a hero like G-Man."  —Gene Luen Yang, author of American Born Chinese, Boxers, and Saints

When Michael G (yes, "G" is his whole last name, and that's why everyone calls him G-Man) has to keep a journal in Mrs. Rosario's class at school, naturally he writes about his ambition to have superpowers and join the superheroes of his city (like Captain Thunderman) in the fight for justice.  After all, his friend Billy Demon just got an awesome winged flying suit and superpowers of his own, and now he's the most popular kid in school!  Mikey would just love to have superpowers too, but how will he get them? And if he does get them, what will he do with them?

"G-Man is funny! Really, really funny! You know how hard it is to make a funny comic? Believe me, plenty hard! I should probably encourage you to buy a copy, but honestly, I don't need the competition."  —Jimmy Gownley, author of Amelia Rules

"Giarrusso has a kid-friendly sarcastic wit which will resonate with readers ages 8 and up."  —Snow Wildsmith, School Library Journal

"G-Man, Chris Giarrusso's awesome all-ages superhero series, is one of the most fun and exciting new properties to come down the pike in ages."  —John Hogan, Graphic Novel Reporter
 
Praise For The G-Man Super Journal: Awesome Origins…
"With abundant dry humor and zinging one-liners, this story doubles as a metanarrative about superhero comics, with several layers of depth." (School Library Journal)
Andrews McMeel Publishing, 9781449458447, 240pp.
Publication Date: February 17, 2015
About the Author
 Chris Giarrusso began his writing career early in life by whiting out the word balloons of newspaper comic strips and filling in his own dialogue. His art career followed soon afterward when he started whiting out the pictures, in addition to the dialogue, to replace them with his own. Eventually, he realized that he could save a lot of time and a lot of whiteout by starting out with blank paper.

 In 1999, Chris Giarrusso created the world-famous MINI MARVELS for Marvel Comics, writing and drawing dozens of comic strips and short stories which have been published in countless Marvel comics and collected editions. Chris even contributed a brand new character to the Marvel Universe, fantastic fan-favorite Elephant Steve. He also illustrated the covers and comic inserts for all four volumes of the 2010 Scholastic series THE AMAZING ADVENTURES OF NATE BANKS.

 Today, Chris Giarrusso is best known for writing and drawing G-MAN, a series of graphic novels loved by all ages, featuring a young superhero who gains fantastic powers when he wears a magic cape. G-MAN, VOLUME 1: LEARNING TO FLY, G-MAN, VOLUME 2: CAPE CRISIS, and G-MAN, VOLUME 3: COMING HOME are available now at bookstores.

 Chris currently lives and writes and draws in Queens, New York. Check out more of his art and animation at his official website, chrisgcomics.com.