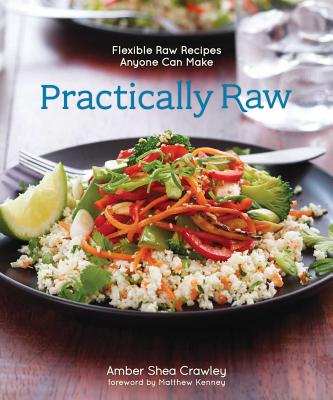 Practically Raw
Flexible Raw Recipes Anyone Can Make
Paperback

* Individual store prices may vary.
Other Editions of This Title:
Paperback (2/28/2012)
Description
There's nothing crude about this raw cuisine. Now the vibrant, fresh flavor and abundant nutritional benefits of raw cuisine are available to anyone, any way you live!
Practically Raw's revolutionary practicality and flexible approach let you enjoy Chef Amber's delicious vegan dishes your own way, according to your budget and taste, every day or every once in a while, and as raw — or cooked — as you like.
Certified raw chef Amber Shea has designed these recipes to be made with ordinary equipment and ingredients, and with the flexibility of many substitutions, cooking options, and variations. Ideal for beginners as well as seasoned raw foodists, Practically Raw has something for everybody, whether you want to improve your health and longevity, cope with food sensitivities, or simply eat fresher, cleaner, and better!
Chef Amber's creative, satisfying recipes include:
Almond Butter Sesame Noodles
Vegetable Korma Masala
Fiesta Taco Roll-Ups
Primavera Pesto Pizza
Maple-Pecan Kale Chips
Cherry Mash Smoothies
Parisian Street Crepes
Warm Apple-Walnut Cobbler
This beautiful new full-color edition (previously published by Vegan Heritage Press) includes a pantry guide, menus, money-saving and make-ahead tips, and nutrition information.
Praise For Practically Raw: Flexible Raw Recipes Anyone Can Make…
"The recipes on offer here are exciting and fl exible, and you'll also fi nd they are very doable for even the most novice cook. With money-saving tips, nutrition advice, information on special ingredients, equipment and techniques, pantry lists, and directions for cooked options, this book is a wonderful entry into enjoying the raw food lifestyle . . . practically." (Russell James, The Raw Chef)

"Beautiful and immensely helpful. The perfect cookbook for omnivores leaning toward veganism, as well as vegans leaning toward raw foods." (Vegan.com)

"For anyone wanting to become more comfortable and familiar with the charms and benefi ts of a plant-based diet, look no further than Practically Raw." (Matthew Kenney, Founder, Matthew Kenney Academy)

"Amber's approachable style to eating raw makes it easy for anyone to start making raw foods in their kitchen. Her recipes are inventive, balancing both raw and cooked foods, with an emphasis on health but never sacrifi cing taste. You'll fi nd the recipes in Practically Raw are deliciously divine." (Christy Morgan, The Blissful Chef)

"Amber's easy-to-follow recipes make this healthful cuisine easy, joyfully approachable, and a veritable feast for the palate. Whether you're a raw food neophyte or have been enjoying this healthy lifestyle for years, Amber's fresh perspective is nothing less than "rawsome." Her Cocoa Corruption Smoothie is addictive." (Dynise Balcavage, Author, "Celebrate Vegan" and "Urban Vegan")

"It's a raw food free-for-all! Amber takes the stress out of uncooked preparations, making delicious results accessible to everyone. Guiding cooks through the world of raw vegan food with gentle instructions and helpful hints all along the way, you'll want to get into the kitchen as soon as you open the cover." (Hannah Kaminsky, Author, "My Sweet Vegan" and "Vegan Desserts")

"I have been impressed with every single recipe in this book I tried. Practically Raw is a book for anyone who likes to eat good food that doesn't take forever to make. I would recommend it to every person interested in adding more raw and vegan foods into their lives." (Eva Rawposa, The Uncooking School)
Andrews McMeel Publishing, 9781449460082, 240pp.
Publication Date: November 18, 2014
About the Author
 Amber Shea Crawley is a chef and writer specializing in healthful vegan and raw food. She was classically trained in the art of gourmet living cuisine at the world-renowned Matthew Kenney Academy, graduating in 2010 as a certified raw and vegan chef. In 2011, she earned her Nutrition Educator certification at the Living Light Culinary Arts Institute.