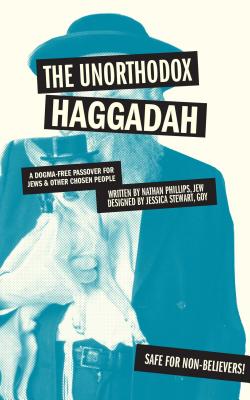 The Unorthodox Haggadah (Paperback)
A Dogma-free Passover for Jews and Other Chosen People
Andrews McMeel Publishing, 9781449460310, 88pp.
Publication Date: February 3, 2015
* Individual store prices may vary.
Description
 A God-free Haggadah for Jews who enjoy the cultural aspects of the religion but not so much the dogmatic ones. This fun and functional text combines traditions from all over the world with snarky wit, pop culture references, and surreal interactive rituals.

The Unorthodox Haggadah is a way to enjoy the strange and wonderful world of religion, while skipping the boring parts.  Ritual is at the core of every culture, but people are no longer into dogma. This book offers the ritual with a hilarious, irreverent twist. It is genuinely funny, fun to flip through, and a riot to use at the seder. Make sure everyone around your table has a copy for the next Passover.

Sample text:

Let's begin by drinking the blood of a virgin lamb off the tip of a flaming golden scimitar. In the event that you've de-virginized your lamb or misplaced your scimitar, use wine.

Now, we toast the Israelites for rolling out of Egypt in time and generally being clever. Here are a few things they've invented since 1901: Jeans, lipstick, Hollywood, the fax machine, psychoanalysis, and the weekend. Thanks for getting us out of Egypt before shit got too real. Drink the second cup of wine while leaning to the left.

"…light up your seder."
-Huffington Post

"A cool, creative affront to Jewish grandmothers."
-MediaBistro

"Redefine Bitter Herbs…slightly insane."
-Tablet Magazine

"It's the Passover you never knew you always wanted...While there are many (many!) different Haggadah versions out there, this one is hands down our favorite (sorry Maxwell house). Genuinely funny, which puts it head and shoulders above 99.9% of the treacly crap people foist on unsuspecting seder guests to try to fool them into thinking they're actually enjoying themselves." 
-Heeb Magazine­
 
About the Author
 When he isn't rewriting religious texts, Nathan Phillips is an award-winning advertising creative who specializes in online marketing campaigns. He won a Webby Award in 2013 for Best Copywriting and wrote and directed the Obama ad with Lena Dunham that Time Magazine called the #3 commercial of 2012. Along with his advertising work, Nathan is also a speechwriter and improv comic. He runs a speechwriting company with his wife called The Oratory Laboratory.
Praise For The Unorthodox Haggadah: A Dogma-free Passover for Jews and Other Chosen People…
"...a cheeky, 'dogma-free' approach to the holiday that commences with a toast to Sammy Davis Jr., cracks jokes about the fungus in King Tut's tomb, includes a game of 'plague bingo,' and concludes with a karaoke version of R. Kelly's 'I Believe I Can Fly." (Ted Merwin, The Huffington Post)

"8 Passover Haggadahs That Are Perfect for Your Family's Seder" (Joanna C. Valente, kveller)