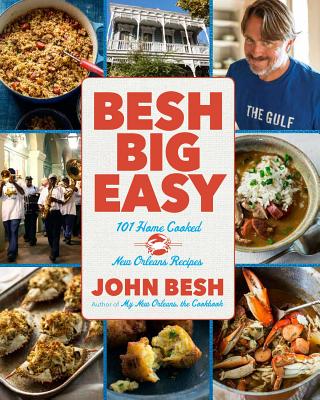 Besh Big Easy (Paperback)
101 Home Cooked New Orleans Recipes (John Besh #4)
Andrews McMeel Publishing, 9781449469177, 224pp.
Publication Date: September 29, 2015
* Individual store prices may vary.
Description
In Besh Big Easy: 101 Home-Cooked New Orleans Recipes, award-winning chef John Besh makes his favorite hometown cooking accessible to a wide audience of cooks and readers.

In this, his fourth big cookbook, the award-winning chef John Besh takes another deep dive into the charm and authenticity of creole cooking inspired by his hometown, New Orleans.
 
Besh Big Easy: 101 Home-Cooked New Orleans Recipes, is a fresh and delightful new look at his signature food. Besh Big Easy will feature all new recipes and easy dishes, published in a refreshing new flexibound format and accessible to cooks everywhere. Much has changed since Besh wrote his bestselling My New Orleans in 2009. His restaurant empire has grown from two to twelve acclaimed eateries, from the highly praised Restaurant August to the just opened farm-to-table taqueria, Johnny Sanchez. John's television career has blossomed as well. He's become known to millions as host of two national public television cooking shows based on his books and of Hungry Investors on Spike TV. Besh Big Easy is dedicated to accessibility in home cooking and Orleans cuisine. "There's no reason a good jambalaya needs two dozen ingredients," John says. In this book, jambalaya has less than ten, but sacrifices nothing in the way of flavor and even offers exciting yet simple substitutions. With 101 original, personal recipes such as Mr. Sam's Stuffed Crabs, Duck Camp Shrimp & Grits, and Silver Queen Corn Pudding, Besh Big Easy is chock-full of the vivid personality and Louisiana flavor that has made John Besh such a popular American culinary icon. Happy eating!
About the Author
 John Besh is a chef and a native son dedicated to the culinary riches of southern Louisiana. In his restaurants, entrepreneurial pursuits, and public activities, he preserves and promotes ingredients, techniques, and heritage one mouthwatering dish at a time. Besh grew up in southern Louisiana and has set the benchmark for fine dining in New Orleans. Each of his eight acclaimed restaurants (August, Besh Steak, Lüke, La Provence, American Sector, The Soda Shop, Domenica and Lüke San Antonio) celebrates the bounty and traditions of the region.

 From the outset of his career, Besh's talent and drive have earned kudos: Food & Wine magazine named him one of the "Top 10 Best New Chefs in America," and his flagship restaurant, August, was featured in Gourmet magazine's "Guide to America's Best Restaurants" and "America's Top 50 Restaurants." Besh won the James Beard Award for Best Chef of the Southeast in 2006 and received Food Arts' Silver Spoon Award in 2009 for revitalizing the culinary legacy of New Orleans.

 Besh's devotion to local ingredients and cuisine also extends to his entrepreneurial projects, including the creation of Besh Restaurant Group Catering; a line of gourmet products; the publication of his first cookbook, My New Orleans (Andrews McMeel Publishing, October 2009); and a follow-up cookbook, My Family Table (Andrews McMeel Publishing, November 2011).

 Besh is a frequent guest chef on NBC's Today Show and has appeared on top programs on The Food Network and the Sundance Channel.
Praise For Besh Big Easy: 101 Home Cooked New Orleans Recipes (John Besh #4)…
"In New Orleans, Besh is a hero...in his new cookbook, he trades the meticulous technique of a professional kitchen for a more streamlined approach to food—the kind his mother and grandmother used to cook." 

(Southern Living)

"The restaurant- and travel-oriented books might bring all the dazzle, but home cooking is the heart and soul of cookbook season. This season's lineup is dominated by a passel of professionals who invite readers into their homes: chefs like John Besh."
(Eater National)

 "Besh wrote this book less as a James Beard Award-winning chef with a dozen restaurants to his name and more as a busy dad eager to serve his family the kind of delicious, soulful food he was raised on (think hearty, one-pot dishes like Chicken and Sausage Gumbo)."
(Tasting Table)

"John Besh's cookbooks are, generally speaking, great—fun to read, dependable to cook from. In his latest,Besh Big Easy, he strips his signature New Orleans-style food down to its roots. Or, as he puts it, 'There's no reason a good jambalaya needs two dozen ingredients.'" (Epicurious)

"Dedicated to accessibility, James Beard Award–winning chef John Besh really is trying to make New Orleans classics like gumbo and po'boys easy for the home cook. Jambalayas are made with less than ten ingredients but still produce classic Nola flavor. With 101 recipes at hand, there's no reason to not bring the French Quarter home with you." (Food Republic)

"This book will be welcomed by the novice cook, the person just dipping their toes into the flavors of Louisiana, and anyone else who enjoys a good home-cooked meal." (Louisiana Kitchen & Culture)

 "(a) great storyteller who puts you in the mood to cook . . . the Christmas present of the year."
(Lagniappe Weekly)

"[John Besh's] fourth cookbook begs to be dog-earred and stained. The recipes are his simplest to date."
(Modern Farmer)

"Down-home New Orleans as interpreted by a native son." (The Times-Picayune)

"This is a little bit of heaven."  (The Today Show)