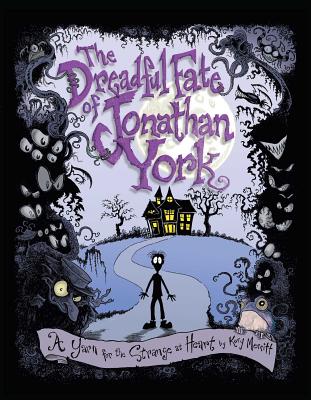 The Dreadful Fate of Jonathan York (Paperback)
A Yarn for the Strange at Heart
Andrews McMeel Publishing, 9781449471002, 128pp.
Publication Date: October 6, 2015
Other Editions of This Title:
Prebound (10/6/2015)
* Individual store prices may vary.
Description
Discover the horrible fate of Jonathan York as he sets out on his journey through a spooky forest with an alarming party of travelmates!

"…[a] hair-raising tribute to the life-changing power of stories . . . Merritt shows both a knack for evocative phrasing … and a deft hand at crafting flamboyantly icky monsters in creepy settings."
—Kirkus Reviews, STARRED review

Jonathan York has led a boring life – a pointless degree from the community college, a lackluster job at the General Store, and never any desire for something more exciting. But when fate leaves him stranded in a sinister land,
he finds himself seeking an adventure of his own. Along the way he encounters ghoulish thieves, ravenous swamp monsters, a dastardly ice cream conspiracy, and a necromancer bent on human sacrifice.

In this beautifully illustrated, four-color novel, Jonathan York's life takes a decidedly spooky turn!
About the Author
Kory Merritt started cartooning and illustrating while attending SUNY Brockport. His weekly comic strip, Brockport Chronicled, won the John Locher Memorial Award in 2007.

His feature, Lost Side of Suburbia, which appears on GoComics, was largely influenced by folk tales Kory learned as a counselor at Camp Kenan in Barker, New York.

Kory currently teaches K-6 Art in Hammondsport, New York.
Praise For The Dreadful Fate of Jonathan York: A Yarn for the Strange at Heart…
"…[a] hair-raising tribute to the life-changing power of stories…Merritt shows both a knack for evocative phrasing…and a deft hand at crafting flamboyantly icky monsters in creepy settings." (Kirkus Reviews (starred review))