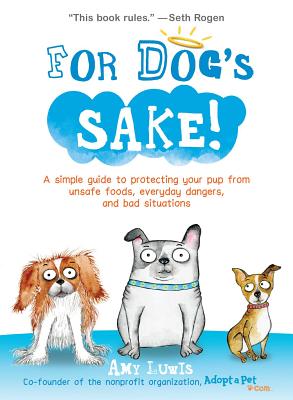 For Dog's Sake! (Paperback)
A Simple Guide to Protecting Your Pup from Unsafe Foods, Everyday Dangers, and Bad Situations
Andrews McMeel Publishing, 9781449472306, 144pp.
Publication Date: May 3, 2016
* Individual store prices may vary.
Description
Did you know that just three ounces of baker's chocolate can kill a 15-pound dog?  Or that human medications are the number one cause of pet poisoning?  Or that innocent snow globes are loaded with lethal antifreeze? For Dog's Sake! is a humorous yet absolutely essential book for dog owners. Why?  Because every year thousands of dog owners unknowingly risk their dogs' lives—from accidental poisoning to household items to hot cars.

From poisons to allergies to hidden dangers and emergency first aid, For Dog's Sake! is a concise guide, whimsically illustrated and thoroughly entertaining dog safety book.  A gold mine of information packed with infographics and ridiculously cute art, For Dog's Sake! is the dog owner's handbook that all dog lovers want and need.  In addition to accidents and first aid, healthy tips on diet, exercise, and grooming round out this essential guide. A trustworthy (and adorable) source of life-saving information this book is accessible and easy to consult at a moment's notice.

Best of all, a portion of the proceeds will go directly to helping sick and injured rescue and shelter pets through Adopt-a-Pet.com's Veterinary Care Fund.
About the Author
Amy Luwis is the co-founder of North America's largest non-profit pet adoption web service, Adopt-a-Pet.com, an organization dedicated to saving the lives of shelter animals. An animal lover and advocate, Amy is passionate about ending animal abuse and educating the public about being kind to our furry friends. 
Praise For For Dog's Sake!: A Simple Guide to Protecting Your Pup from Unsafe Foods, Everyday Dangers, and Bad Situations…
I've always wanted a diagram to evaluate Zelda's poo, and now I've got it.  And although I hope we'll never use it, I now feel very well-versed in the doggy Heimlich maneuver.  This book rules. (Seth Rogen)

I consider myself pretty well-versed in the language of Dog, but reading For Dog's Sake! opened my eyes to SO MANY amazing ideas, tips, suggestions, and guidelines for keeping my little Zelda safe and healthy. (Lauren Miller Rogen, writer, actor, dog lover, cofounder of hilarityforcharity.org)

Who knew?!  From Gorilla Glue to medicines to mushrooms, this amusing book is packed full of everyday and often surprising perils that could cost your dog dearly (as well as cost you dearly at the vet's office).  Easy to read, vital information for anyone who wishes their dog to live a long and healthy life.  This book should be dog-eared even before the adoption papers are signed.  Buy one for yourself and for every dog guardian you know. (Ingrid Newkirk, president of People for the Ethical Treatment of Animals, author of You Can Save The Animals and other books)

LOVE love love this book!  All of my neurotic questions and concerns are addressed in super-simple and fabulously entertaining pictures.  This book is a dog's best friend! (Kathy Freston, New York Times bestselling author of Veganist and The Lean)

Every day we read about dogs who've gotten sick, mishandled, and lost . . . or even die. Those of us who love our dogs like children yearn for the best information to keep our pups safe. This book is it!  Read it and don't weep because your little baby will be safe, healthy, and tail-wagging happy. (Jane Velez-Mitchell, bestselling author, editor JaneUnChained.com)