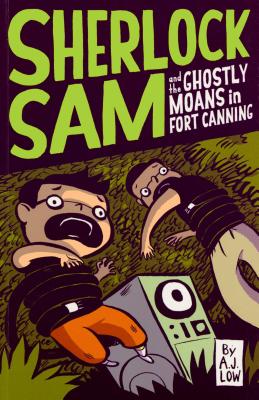 Sherlock Sam and the Ghostly Moans in Fort Canning (Paperback)
book two
Andrews McMeel Publishing, 9781449477882, 120pp.
Publication Date: August 2, 2016
* Individual store prices may vary.
Description
Meet Sherlock Sam, Singapore's greatest kid detective. With his trusty robot Watson, Sherlock Sam will stop at nothing to solve the case, no matter how big or small!

Introducing the Sherlock Sam series by A.J. Low—a fresh, cross-cultural twist on the classic Sherlock Holmes stories, tailored for middle-grade readers. Set in iconic Singapore locations, the series follows the mystery-solving exploits of smart, observant, food-loving 10-year-old Samuel Tan Cher Lock (a.k.a. Sherlock Sam), Watson, his reluctant robot sidekick, and the rest of the Supper Club (a "Scooby Doo gang," of sorts) as they prove that mysteries are best solved through teamwork.

When ghostly sounds fill the air at one of Singapore's most-loved historical attractions, Sherlock Sam finds himself in the middle of an intriguing mystery. Ghosts don't exist... or do they? Will this puzzle prove too difficult for Sherlock Sam and Watson to solve?

"Hooray for Sherlock Sam! Simply awesome! This book is super fun, with adorable art and charming characters."
—Evonne Tsang, author of Twisted Journeys #12: Kung Fu Masters, Twisted Journeys #22: Hero City, and My Boyfriend Is a Monster #1: I Love Him to Pieces

"An intriguing tale which will keep young readers eager to find out what happens next."
—Clara Chow, My Paper

"A promising adventure series with Super Sleuth Sherlock Sam! His insatiable appetite to sample Singapore's popular foods and never-give-up attitude to solving mysteries will keep readers glued till the last page."
—Adeline Foo, author of the bestselling series The Diary of Amos Lee

"A thrilling kid's detective romp in the grand tradition of Famous Five, with a lovable robot and delicious Peranakan food!"
—Otto Fong, author of Sir Fong's Adventures In Science

"Sherlock Sam and Watson are set to become one of Singapore's favourite detective duos! Sam's preoccupation with food struck a familiar chord with the Singaporean in me and Watson's deadpan one-liners had me laughing out loud. What afun-filled, food-filled adventure story! This is a delicious read that will certainly warm your heart like a good serving of ayam buah keluak!"
—Emily Lim, award-winning author of Tibby, the Tiger Bunny and Prince Bear & Pauper Bear

"Watson is a delightful creation. He follows a rich line of great robot companions from Star War's R2D2 to Star Trek's Data; no detective should leave home without one!"
—Sonny Liew, Eisner-nominated author of Malinky Robot

"A genius kid detective would be good. A genius kid detective with a wise-acre robot sidekick is even better. Add a wicked sense of humor and you've one of the sharpest, funniest books you'll read all year."
—Hal Johnson, author of Immortal Lycanthropes

"Funny and witty...The display of local knowledge is a clear show of research work done by the writers [and] the illustrations by drewscape add extra charm to the book."
—Melissa Mak, Weekend Notes

"I kept reading because I wanted to know who was responsible for the moans and I liked the ending! But never read this book at night alone."
—Greta Roberts, 9, in Expat Living Singapore

"[Sherlock Sam] might just prove himself to be the greatest kid detective that ever was."
—Lester J Wan, The Weekender Singapore
About the Author
Behind the pseudonym A.J. Low are husband and wife team Adan Jimenez and Felicia Low-Jimenez. Adan previously co-wrote a children's book, Twisted Journeys #22: Hero City. He loves comics, LEGO®, books, movies, games (analog and video) and Doctor Who. Felicia spent most of her childhood with her head in the clouds and her nose buried in a book. The Sherlock Sam series is Felicia's debut writing effort, after accumulating years of experience buying, selling and marketing books.
or
Not Currently Available for Direct Purchase