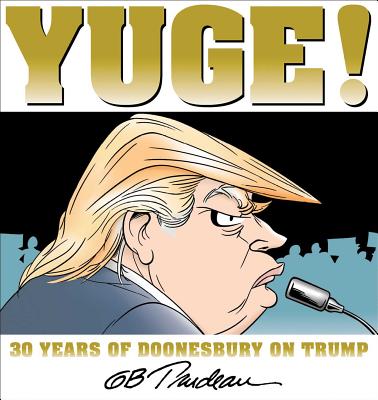 Yuge!
30 Years of Doonesbury on Trump
Paperback

* Individual store prices may vary.
Description
"Doonesbury is one of the most overrated strips out there. Mediocre at best."
—Donald Trump, 1989

A NEW YORK TIMES BEST SELLER!

He tried to warn us. Ever since the release of the first Trump-for-President trial balloon in 1987, Doonesbury's Garry Trudeau has tirelessly tracked and highlighted the unsavory career of the most unqualified candidate to ever aspire to the White House. It's all there—the hilarious narcissism, the schoolyard bullying, the loathsome misogyny, the breathtaking ignorance; and a good portion of the Doonesbury cast has been tangled up in it.  Join Duke, Honey, Earl, J.J., Mike, Mark, Roland, Boopsie, B.D., Sal, Alice, Elmont, Sid, Zonker, Sam, Bernie, Rev. Sloan, and even the Red Rascal as they cross storylines with the big, orange airhorn who's giving the GOP such fits.

Garry Trudeau is the "sleazeball" "third-rate talent" who draws the "overrated" comic strip Doonesbury, which "very few people read." He lives in New York City with his wife Jane Pauley, who "has far more talent than he has."
Praise For Yuge!: 30 Years of Doonesbury on Trump…
"Trump and 'Doonesbury': The Comic Gift That Keeps On Giving"
  (The New York Times)

"How Doonesbury predicted Donald Trump's presidential run 29 years ago."
  (The Washington Post)

"Why so surprised, America? Doonesbury has been preparing us for President Trump since 1987." (USA Today)

"If anybody thinks Trump can do a presidential pivot and change his personality "Yuge!" should be required reading."
  (The Daily Kos)

"The first thing to know about Trudeau's Trump strips is that they're funny as hell…There have been many election-season caricatures of Trump, but Trudeau's been doing this for 30 years. He's practically the court artist of Castle Trump, and no one can beat him (not even Trump, whose capacity for self-parody can't be overstated)."
 
  (Cory Doctorow, Boing Boing)
Andrews McMeel Publishing, 9781449481339, 112pp.
Publication Date: July 5, 2016
About the Author
G. B. Trudeau has been drawing his Pulitzer Prize-winning comic strip for more than forty years. In addition to cartooning, Trudeau has worked in theater, film, and television. He also has been a contributing columnist for the New York Times op-ed page and later an essayist for Time magazine. He is a fellow of the American Academy of Arts & Sciences. He lives in New York City with his wife, Jane Pauley. They have three grown children.
 
Coverage from NPR