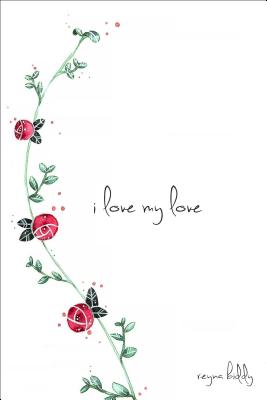 I Love My Love
Paperback

* Individual store prices may vary.
Description
In short, poignant verses, Reyna Biddy's poems explore pain, emotional reckoning, and the power of self-love.

The debut collection from 22-year-old poet Reyna Biddy, I Love My Love tells the story of Reyna's childhood, her parents' toxic relationship, and how, against all odds, she learned to love herself.
Praise For I Love My Love…
"The power of self-love is extremely prominent in her poignant verses and serves to cure the broken and give hope to people who feel as though there is none left." (Dominique Etzel, Alloy)

"Inspiring the poetry-sequenced narrative of her first book of prose, I Love My Love, Reyna's childhood—which was caught between the dysfunctional relationship of her two parents—breathes substance into her poetry." (Diamond Alexis, BET.com)

"If you've never read poetry on the beach, we highly recommend that you do. And we highly recommend that you start with Reyna Biddy's I Love My Love." (Elizabeth Entenman, HelloGiggles)

"This collection feels deeply personal, almost as if the poems are lifted from a diary, which might allow readers to feel a deep sense of connection." (Kathryn Gullo, VOYA Magazine)

"She [Reyna] is strong through her suffering, loving despite her heartache, and soaks in all the love and lessons around her to give it back tenfold." (Jessie Ma, FabFitFun)
Andrews McMeel Publishing, 9781449486761, 120pp.
Publication Date: February 14, 2017
About the Author
Reyna Mays, known as "Reyna Biddy", is a 22-year old spoken word poet, author, and self-love enthusiast based in Los Angeles, California. Reyna is known for both her positive affirmations and poetry online. Her work welcomes in the lost, heals the broken, and gives hope to those who feel there's none left. Reyna's work is brutally honest, allowing you to experience her trauma, her childhood, her hurt, her healing process, and her journey toward self-fulfillment.

Reyna began her "self love" journey in the beginning of 2015 and has gained popularity on almost every social site since. By maintaining a structured brand based solely around what it is and what it means to be a "strong loving vulnerable beautiful woman - inside and out" Reyna has accumulated a large variety of supporters. Reyna hopes to continue to grow with her audience as she grows within her art.