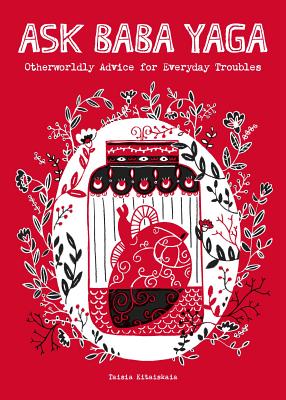 Ask Baba Yaga
Otherworldly Advice for Everyday Troubles
Paperback

* Individual store prices may vary.
Other Editions of This Title:
Digital Audiobook (10/5/2020)
Description
With a strange, otherworldly style, poetic clarity, and striking honesty, Ask Baba Yaga contains beautifully skewed wisdom to be consulted in times of need.

Dear Baba Yaga,
I think I must crave male attention too much. I fear that, without it, I would feel invisible.
 
BABA YAGA:
When you seek others this way, you are invisible nonetheless. Yr shawl is covered in mirrors in which others admire themselves; this is why they greet you so passionately. It is good to be seen, but it is better to see. Find a being to look hard into, & you will see yrself and what is more than you.
 
In age-old Slavic fairy tales, the witch Baba Yaga is sought out by those with a burning need for guidance. In contemporary life, Baba Yaga—a dangerous, slippery oracle—answered earnest questions on The Hairpin for years. These pages collect her most poignant, surreal, and humorous exchanges along with all-new questions and answers for those seeking her mystical advice.
 
Praise For Ask Baba Yaga: Otherworldly Advice for Everyday Troubles…
"Fans of Cheryl Strayed and haunted grandmothers will find solace and solutions in these bite-sized piquant pieces. Baba Yaga's advice lifts up the ordinary problems of love affairs, bodies, loneliness, friendship, and loss, making each as strange and extraordinary as life itself." (Amelia Gray, author of Isadora and Gutshot)

"Ask Baba Yaga is no ordinary book...Reader, hand over your soft animal soul to Baba; watch as she seizes it, pokes around, finds the ticklish and tender spots. Rejoice in her primordial wisdom." (Kelly Luce, author of Pull Me Under)

"Every word of Ask Baba Yaga feels like a gift." (Julie Buntin, author of Marlena)

"There is plenty of advice in the world, but only Taisia Kitaiskaia has channeled the wit and wisdom of a solitary witch whose cauldron has seen more than its share of bloody human parts. In the pages of this book 'there will be no sootheengs wench,' but you will find a wild clarity and a rich seething aliveness matched only by your strangest childhood dreams. Read it if you dare." (Alyssa Harad, author of Coming to My Senses)

"Ask Baba Yaga is Dear Sugar for the supernatural set. Witty, wise, and weird in all the right ways, Kitaiskaia proves that good advice is its own magic spell. She meets each query with a generous spirit and a crone-old soul. Pull up a chair in her chicken-leg hut, and let her potent, poetic insights bring you comfort during your darkest nights." (Pam Grossman, author of What Is a Witch)

"Ask Baba Yaga is a beautiful, strange, troubled, moving piece of fresh air. Pick up this book, turn the pages, inhale, and feel ready to march back into everyday troubles with renewed courage and hope. I adored it." (Edward Carey, author of The Iremonger Trilogy)

"Ask Baba Yaga is the only advice column I trust. Taisia Kitaiskaia's thoughtful, otherworldly responses are calming talismans in a time when turmoil feels a part of daily life. When you're feeling adrift, let Baba Yaga be your remedy." (Emma Carmichael, Jezebel.com)

"I am in awe of how Taisia Kitaiskaia so beautifully captures the tough crone love, the sly witchy wit, and the uncanny, otherworldly wisdom of Baba Yaga...This book is a rare gift for all of us who find ourselves navigating life's thorniest paths." (Cate Fricke, fairy tale writer and blogger)
Andrews McMeel Publishing, 9781449486815, 160pp.
Publication Date: September 26, 2017
About the Author
Taisia Kitaiskaia was born in Russia and raised in America. She is the author of Literary Witches: A Celebration of Magical Women Writers, illustrated by Katy Horan. Her poetry has been published widely. Baba Yaga lives deep in a treacherous wood; Taisia lives in Austin, Texas.