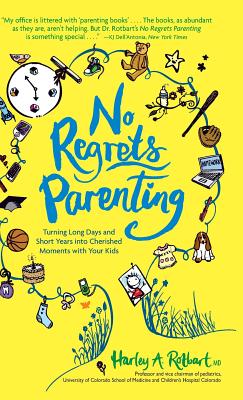 No Regrets Parenting
Turning Long Days and Short Years into Cherished Moments with Your Kids
Hardcover

* Individual store prices may vary.
Other Editions of This Title:
Paperback (3/6/2017)
Description
No Regrets Parenting is a book for busy parents in our busy times. Juggling family and professional lives is not a course taught in high school or college--many parents find the challenges of being all things to all people daunting. This theme is ubiquitous in today's culture--movies, theatre, books, magazine features, and human interest news stories all find the challenge of raising children to be prime fodder for audiences. How to do it all? How to stay sane while trying to do it all?
No Regrets Parenting teaches parents how to experience the joy and depth of the parenting experience amidst the chaos and choreography of daily routines. Car pool, bath time, soccer practice, homework, dinner hour, and sleepovers all become more than just obligations and hurdles to overcome to get through the day. They are opportunities for intimate and meaningful time--quality time--with young kids. It's not how much time you have with your kids, but how you spend that time that matters in the life and legacy of a young family. No Regrets Parenting readjusts parents' perspectives and priorities, helping them find the time to do it all and feel good about your kids' childhood.
There is a simple, single truth for every parent. Your kids need you to be there. They need to see who you are and how you live your life. And, in return, they will help you to see who you are and how you should be living your life. For all of that to happen, parents need time with their kids. Memorable and meaningful time. No Regrets Parenting is about time. Finding enough of it and making the most of it.
Andrews McMeel Publishing, 9781449489175, 234pp.
Publication Date: March 6, 2017