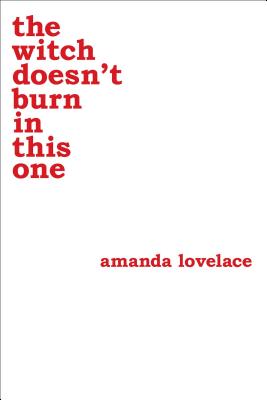 the witch doesn't burn in this one (Paperback)
Andrews McMeel Publishing, 9781449489427, 208pp.
Publication Date: March 6, 2018
* Individual store prices may vary.
Description
2016 Goodreads Choice Award-winning poet Amanda Lovelace returns in the witch doesn't burn in this one — the bold second book in her "women are some kind of magic" series. 

The witch: supernaturally powerful, inscrutably independent, and now—indestructible. These moving, relatable poems encourage resilience and embolden women to take control of their own stories. Enemies try to judge, oppress, and marginalize her, but the witch doesn't burn in this one.
 
About the Author
growing up a word-devourer & avid fairytale lover, it was only natural that amanda lovelace began writing books of her own, & so she did. when she isn't reading or writing, she can be found waiting for pumpkin spice coffee to come back into season & binge-watching Gilmore girls. (before you ask: team jess all the way.) the lifelong poetess & storyteller currently lives in new jersey with her spouse, their bunnycat, & a combined book collection so large it will soon need its own home. she has her B.A. in English literature with a minor in sociology. her first collection, the princess saves herself in this one, won the Goodreads choice award for best poetry & is a USA TODAY & Publishers Weekly bestseller.
Praise For the witch doesn't burn in this one…
"A feminist celebration of the magic of womanhood.
Fans of
The Princess Saves Herself in this One
will be thrilled with
The Witch Doesn't Burn in this One
! The poet spreads her wings in her second book, moving from an intimate portrait of girlhood into a complex portrayal of feminism. Mixing mysticism and lore, the poems follow a natural progression from the themes explored in Lovelace's debut. With connections to current events and real life,
The Witch Doesn't Burn in this One
, expands on Lovelace's woman-as-magic motif and moves beyond the personal narrative to a heartbreaking and uplifting portrayal of womanhood through the ages." (Danika Stone, author of All the Feels)
"To everyone in range of this tweet: go and buy THE WITCH DOESN'T BURN IN THIS ONE by the immensely gifted Amanda Lovelace (
@ladybookmad
). I don't care if you don't usually read poetry. You will after you read this. You're welcome. 
#TeamWitch
"
(Deborah Harkness, author of All Souls Trilogy)
"In this liberating collection of poetry and prose, Amanda Lovelace taps into the suffering of our mothers and spares us none of the gory details. Writing from a place of anger and tenderness, she expertly crafts a coven you'll want to be a part of. Lovelace's
The Witch Doesn't Burn In This One
is a self-love potion for the women in your life." (Trista Mateer, author of Honeybee)
"Filled with glorious imagery and incredible fire, this beautiful book is exactly what every woman and every survivor needs to read right now. Amanda Lovelace takes poetry to a whole new level with
The Witch Doesn't Burn In This One,
revealing her impressive skills with language and art once again as well as her breathtaking evolution as a writer. With a heart-wrenching yet empowering take on the very real and prevalent issues in society today whilst weaving magic with her pen,
The Witch Doesn't Burn In This One
is Amanda Lovelace's triumphant return as a poet, and what a splendid return it is!" (Nikita Gill, author of Your Soul Is a River)
"Amanda Lovelace's new book is a flammable clarion call, a prophetic and ominous text depicting the day fast approaching (or already here?) that the women of the world reclaim all the fire in it as their own. Frantic and powerful, clear and accessible, Amanda has given the world a good reason to read her poetry again. Beware of matches." (Iain S. Thomas, author of I Wrote This for You)
"This book spoke to my seething soul. Full of powerful feminist rage and wisdom,
The Witch Doesn't Burn In This One
made me want to set fire to the world and dance in its ashes. I'm buying a copy for all my female friends!" (Sandhya Menon, New York Times bestselling author of When Dimple Met Rishi)
"What's the most dangerous thing women can do? Love themselves enough to fight back. Amanda Lovelace's new poetry collection is a fiery, accessible call-to-arms in a time where young women need every rebellious spark." (Nicole Brinkley, bookseller at Oblong Books & Music)