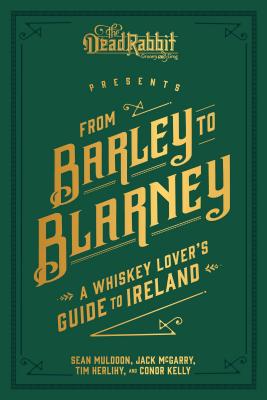 From Barley to Blarney
A Whiskey Lover's Guide to Ireland
Hardcover

* Individual store prices may vary.
Description
This comprehensive field guide to Ireland's robust and growing whiskey scene is the ultimate itinerary for whiskey beginners and connoisseurs, alike.

An Irish whiskey guru, two bartender behemoths, and an adept writer combine forces to create this comprehensive guide to Irish whiskey. The book begins with an in-depth introduction to whiskey and its history in Ireland, including what makes each style of Irish whiskey unique. What follows is a detailed tour, including photographs, around the four Irish provinces, and of the 22 different distilleries and the unique Irish whiskeys each produces, as well as a discussion of the booming present and promising future for Irish whiskey producers. Each province also highlights the best of Ireland's 50 iconic bars and pubs, linking past to present and providing the ultimate whiskey tourist itinerary. The fun really begins when the masterminds behind 2015's "World's Best Bar," Dead Rabbit Grocery and Grog, share 12 original mixed-drink recipes tailor-made for Irish spirits.
Praise For From Barley to Blarney: A Whiskey Lover's Guide to Ireland…
"This colorful new book provides a tour of today's distilleries, some with venerable roots, but most starting quite recently to meet the newly skyrocketing demand."
  (The New York times)

"A sophisticated guide for fans of Irish whiskey. It's beautifully designed and illustrated . . . I can't imagine returning to Ireland without a copy tucked away." (The Wall Street Journal)

"If you knew nothing about Irish whiskey before picking up the book, it doesn't matter. By the end, you'll have not only a solid base of Irish whiskey and Irish pub knowledge but also the will and wish to hop on the first jet to Dublin and start your very own journey." (Sam Slaughter, The Manual)

"If you're a serious Irish whiskey connoisseur, you'll find plenty to interest you. But if you don't know about the har stuff, [there is] information on its history and how it's made. If you're a devotee of great pubs, you'll be spoiled for choice. And if you love a good cocktail, Jack McGarry created 12 original recipes. . . " (The Irish Times)

"If this was a book that had been done from the desk, as it easily could have been, it might have ended up as a dry encyclopedia that was useful as a reference work but not something you'd read cover to cover. However, by visiting all the pubs and distilleries, and talking to the owners and the experts, each entry is filled with conversation as well as information. The reader hears directly from the distiller or the pub owner, and we all know there's no conversation like an Irish conversation. All you need is a session of live Irish music playing in the background, and you could be there with them." (Travel Distilled)

"Irish whiskey is a spirit unto itself, and lovers of Scotch or Bourbon can argue, but Irish whiskey purists know the craic (fun) is in the neat pour with good friends. This book was born from a whiskey guru, two bartender behemoths, to create this comprehensive guide to Irish whiskey." (Monsters & Critics)

Everyone should have "take a road trip through Ireland" on their bucket list — this is speaking from experience — and for whiskey lovers there's now a definitive guide: "From Barley to Blarney," written by the founders of the Dead Rabbit. (Eva Kis, Metro New York)
Andrews McMeel Publishing, 9781449489939, 272pp.
Publication Date: April 16, 2019
About the Author
International barman Sean Muldoon is most renowned for the Dead Rabbit Grocery and Grog in Lower Manhattan, which he opened and manages with his business partner, Jack McGarry (both proud sons of Belfast). The bar has won eight Spirited Awards from Tales of the Cocktail, including "World's Best Bar" and "World's Best Cocktail Menu." In 2016, the Dead Rabbit garnered the top spot on the coveted World's 50 Best Bars list and has the largest selection of Irish whiskey in New York.

Tim Herlihy, drinks historian and U.S. ambassador for Tullamore Dew whiskey, was born and raised in County Louth, Ireland. Tim has traveled to numerous distilleries across Ireland, Scotland, the U.S., and beyond, studying the history of Irish whiskey and the entire production process from malting to maturation. In his role as Tullamore Dew Ambassador, Tim is a foremost presenter at whiskey shows and cocktail weeks, discussing Irish whiskey history, cocktails, and one of his favorite topics, the Irish pub.

Conor Kelly is from a talky Irish family where storytelling is a competitive and, occasionally, full-contact sport.