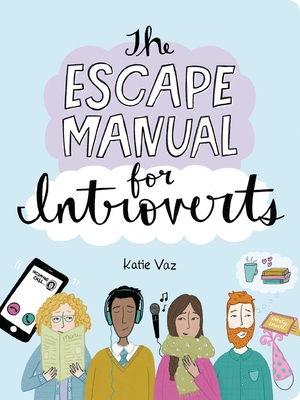 The Escape Manual for Introverts (Paperback)
Andrews McMeel Publishing, 9781449493691, 144pp.
Publication Date: August 6, 2019
* Individual store prices may vary.
Description
Feeling cornered at a wedding reception by gossipy guests? Stuck at a holiday party that lasts forever? This beautifully illustrated book is the ultimate funny, sometimes absurd guide to escaping those painfully awkward situations. 

Trapped in an airplane seated next to a chatterbox? Are you hosting a dinner party with people who just won't leave? Katie Vaz has the key to your escape. The Escape Manual for Introverts guides readers through different scenarios with themed chapters ("Friends," "Relatives," "Strangers," etc.). Each chapter covers a range of situations, from an invitation to karaoke night to group lunchtime. And she offers a number of escapes for each scenario: bringing odoriferous foods to lunch for a while, having a pet (real or imagined) that "requires" frequent check-ins, and even investing in a jet pack. This book features Vaz's full-page illustrated spreads, hand-lettering, and spot illustrations. From the silly to the sincere, Vaz's clever, hilarious escape plans and bizarre excuses speak to the introvert in all of us. 
About the Author
Katie Vaz is an illustrator and hand-letterer based in Endicott, New York.  She designs her own line of greeting cards, prints, and other stationery products, which are sold both in her Etsy Shop and in brick and mortar shops across North America.  Visit her online at www.katievaz.com.

Katie studied graphic design (BFA) at the Rochester Institute of Technology in Rochester, NY and integrated design (MA) at Anhalt University of Applied Sciences in Dessau, Germany.  Katie is particularly bad at talking about her feelings, so she creates art that can do it for her.
Praise For The Escape Manual for Introverts…
"Katie Vaz's charming and delightful illustrations will resonate with introverts who are trying desperately to find a balance between social time and their need for solitude. Whether you struggle with devising the right excuse to leave a crowded party early, or are in dire need of strategies to avoid small talk with the chatty neighbor, Katie's new book has got you covered. It is filled with oh-so-relatable moments accompanied with witty and helpful tips on how to plan your smooth escape. I wish I had this book sooner. It would have saved me a lot of angst from awkward social situations!" (Debbie Tung, author of Quiet Girl in a Noisy World)

"This book is so cute and fun! Katie Vaz has given us a fun little how-to guide for all those moments when we're trapped in a situation with *gasp* another human, and have to find a way out without socializing. It's a wonderful addition to the introvert cartoon collection."
  (Book Riot)

"An extra amount of solitude is necessary for us to feel sane, yet finding ways to explain that to extroverts can be tricky. Just because we don't want to go doesn't mean we don't like them. That can be hard to get across kindly. Here are some cheeky cover stories for when "I just want to be home" isn't going to cut it." (Elephant Journal)

"Overlooked for years — just as they would prefer! — this personality type is literally all around you just waiting to find merchandise that speaks to just them."
  (Stationery Trends)

"Katie and I discuss her newest book, The Escape Manual for Introverts which is hilarious and honest, and not only do I love the book, but my son has taken to it so much and even kissed one of the characters yesterday." (The Rainy Day Diaries podcast)