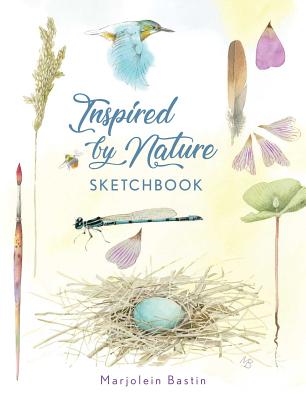 Inspired by Nature Sketchbook (Paperback)
Andrews McMeel Publishing, 9781449495961, 192pp.
Publication Date: May 14, 2019
* Individual store prices may vary.
Description
Marjolein Bastin's passion for the natural world saturates each page of the Inspired by Nature Sketchbook, and kindred spirits will adore this unique, beautifully illustrated sketchbook.

Known for her charming, lush nature illustrations, Marjolein has kept detailed sketchbooks of the things she encounters in nature since she was a young girl.   This book features a number of her personal sketches side-by-side with the fully wrought, exquisitely detailed pieces of art they inspired.  Blank pages, with  hand-drawn borders by Marjolein, are included after each illustrated spread for users to document their own drawings and thoughts. A durable cover, an envelope in the back for nature finds, and a bound ribbon bookmark make this sketchbook both beautiful and useful.
About the Author
Marjolein Bastin's passion for the natural world is of a universal quality that appeals to people the world over. You can find Marjolein's artwork on greeting cards, calendars, dinnerware, bedding, gifts and many other products. But for Marjolein only one thing remains important: spend every day behind her desk painting the natural world around her.

She also writes and illustrates children's books featuring the endearing Vera the Mouse character, which she created. Through her art and words, Marjolein offers people a simple reminder to pause and enjoy nature and allow it to be a source of serenity, energy, and healing. Finding inspiration in a bird lighting on a branch or a leaf drying in the autumn sun, Marjolein takes long walks each afternoon to seek new ideas for her artwork and her writings. Marjolein and her husband Gaston divide their time between country homes in Holland, Switzerland, and in Missouri,  as well a tropical retreat in the Cayman Islands. Each setting provides a unique glimpse of what nature has to offer throughout the world. The couple has a son, Mischa, a daughter, Sanna, and two grandchildren. 
Praise For Inspired by Nature Sketchbook…
"Bastin's handsome book is meant to be carried, tucked into a rucksack with pencils and watercolors, to be used in the field to capture 'experiences, observations and nature finds.'" (California Fall Color)