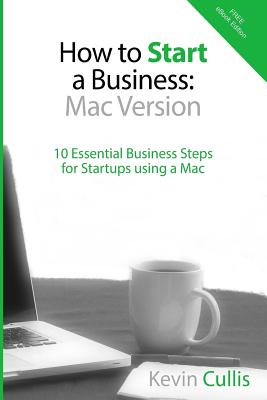 How to Start a Business (Paperback)
Mac Version: 10 Essential Business Steps for Startups Using a Mac
Createspace Independent Publishing Platform, 9781449542368, 276pp.
Publication Date: April 12, 2012
* Individual store prices may vary.
Description
Third Edition August 2013. Mac OS Mountain Lion Ready The Best Selling book for Entrepreneurs using Macs "I'm not a Mac expert, I wish I had read your book two years ago." -C McClure, Founder and President, ScoutRock.com, former Director, Executive Recruiting for Lockheed Martin "I could have literally saved thousands of dollars in outsourced marketing and production had I read this book. I enjoyed the broad spectrum of motivational quotes and stories embedding within business guidance." Jimmy Graham, Veteran US Navy SEAL, Owner of Duty To Act, LLC No matter if you run an online business or a traditional brick-and-mortar business, there is a computer at the center of it. Unfortunately, many entrepreneurs resist technology and never fully maximize what their computers can do. In many cases, entrepreneurs may be searching for solutions to difficult business problems - solutions that are hiding in plain sight, right on their computers Business technology expert Kevin Cullis wants to change this. How to Start a Business: Mac Version (Lion Ready) will provide you with a concise roadmap for starting or growing a business using a Mac computer. If you've never used a Mac before, you'll find that switching platforms is easier than you think. From creating a business plan to tracking cash flow ... from designing presentations to recording and publishing videos ... Cullis shows you exactly how to use your Mac to grease the wheels of your business - and get more done in less time. After reading How to Start a Business: Mac Version (Mountain Lion Ready), your computer will no longer be something to fear or avoid, but rather something to make your business run more smoothly than you ever imagined Among the many things you'll learn: * How to step from mindset and "idea" through to "Grand Opening" using a Mac. * How to make money with your Mac. * How to set up your business the right way the first time. * How to implement your business model and get your first customer. * How to start a business at home or college, or open a medical or law office. * How to use your Mac's built-in software to affordably advertise and attract new customers. How to Start a Business: Mac Version (Mountain Lion Ready) is your shortcut to an intelligently run business that uses technology the smart way: to make difficult business processes more efficient, more enjoyable, and more profitable. FREE Ebook version available inside.
About the Author
Kevin Cullis is a former Air Force officer. He has his Masters Degree in Administration, as well as 12 years of face-to-face experience selling Mac and PC hardware and software solutions. He loves helping entrepreneurs and small business owners integrate, utilize, and optimize the use of computers in their marketing, sales, and business processes. How to Start a Business: Mac Version is his first book.