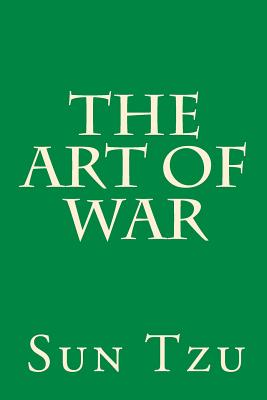 The Art of War (Paperback)
Createspace Independent Publishing Platform, 9781449547059, 136pp.
Publication Date: February 2, 2010
Other Editions of This Title:
Paperback (12/2/2017)
Hardcover (5/28/2013)
Paperback (5/8/2013)
Paperback (4/30/2016)
Paperback (10/29/2013)
Paperback (6/18/2018)
Paperback (3/3/2008)
Paperback (8/3/2017)
Paperback (11/28/2017)
Paperback (12/27/2013)
Paperback (1/28/2014)
Paperback (12/25/2017)
Paperback (10/16/2017)
Paperback (3/4/2010)
Paperback (12/1/2006)
Paperback (8/9/2013)
Paperback (10/19/2013)
Paperback (11/13/2012)
Hardcover (2/25/2016)
* Individual store prices may vary.
Description
Sun Tzu is believed to have authored The Art of War, an influential ancient Chinese book on military strategy considered to be a prime example of Taoist thinking. Sun has had a significant impact on Chinese and Asian history and culture, both as an author of The Art of War and through legend. During the 19th and 20th centuries, Sun's The Art of War grew in popularity and saw practical use in Western society, and his work has continued to influence both Asian and Western culture and politics.
About the Author
According to traditional sources, such as the 2nd century BC biography written by Sima Qian, Sun was born in Qi during the Spring and Autumn Period of China (722-481 BC) and became a heroic general for the king of Wu, Helu. His victories then inspired him to write The Art of War. The period was a time of constant war among seven nations (Zhao, Qi, Qin, Chu, Han, Wei and Yan) seeking to control all of China.[ The king of Wu tested Sun's skills by commanding him to train a harem of 360 concubines into soldiers. Sun divided them into two companies, appointing the two concubines most favored by the king as the company commanders. When Sun first ordered the concubines to face right, they giggled. In response, Sun said that the general, in this case himself, was responsible for ensuring that soldiers understood the commands given to them. Then, he reiterated the command, and again the concubines giggled. Sun then ordered the execution of the king's two favored concubines, to the king's protests. He explained that if the general's soldiers understood their commands but did not obey, it was the fault of the officers. Sun also said that once a general was appointed, it was their duty to carry out their mission, even if the king protested. After both concubines were killed, new officers were chosen to replace them. Afterwards, both companies performed their maneuvers flawlessly. Sima's biography claims that Sun later proved on the battlefield that his theories were effective, that he had a successful military career, and that he wrote The Art of War based on his tested expertise.