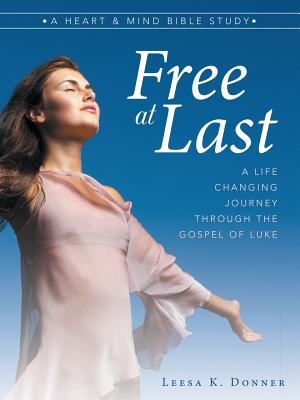 Free at Last (Paperback)
A Life-Changing Journey Through the Gospel of Luke
WestBow Press, 9781449789763, 424pp.
Publication Date: April 18, 2013
* Individual store prices may vary.
Description
Many of us live life in bondage - to food, family or fear, to our past, present or future --almost anything that keeps us from being who God intended us to be. But Jesus has come to give us abundant life and set us free. In A Life-Changing Journey through the Gospel of Luke, we learn that nothing is impossible with God. Dare to learn His Word through this inductive study and begin to live a life of liberty in Christ.
"In this wonderful Bible study on Luke, Leesa Donner does a masterful job of challenging and encouraging the reader...to enter the world of the gospel and come away not only with a better knowledge of the text but a transformed heart." --Dr. Tremper Longman III Robert H. Gundry Professor of Biblical Studies Westmont College
"This helpful, scholarly and yet accessible workbook is a unique aid in understanding the gospel of Luke. It...has already produced spiritual fruit in the lives of many who have used it."--Dr. Robert Norris, Senior Pastor Fourth Presbyterian Church, Bethesda, MD
"Leesa and her husband Tim are two great blessings in the lives of my wife and me. I am pleased to recommend Leesa's excellent Bible study."--Cal Thomas Syndicated Columnist/Fox News Contributor
"Free at Last is the most thought-provoking of the many Ladies Bible studies I've done over the years." --Cheryl (student)
"Wonderful material...works well within the scope of a small group." --Linda (student)
"The scholarship and the practicality of this study was a good balance. Not overly academic but rich in history..."--Bonnie (student)