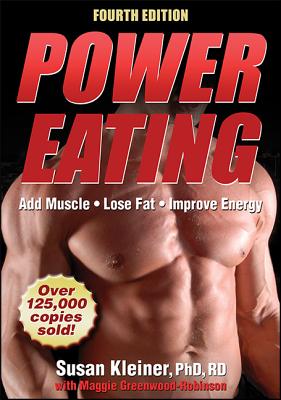 Power Eating
Paperback

* Individual store prices may vary.
Description
Gain muscle, cut fat, and elevate your power and performance levels. With a r sum that includes work with many NFL and NBA athletes as well as world-class bodybuilders, Susan Kleiner brings you a resource like no other.
In Power Eating, Kleiner brings together years of scientific-based research that has aided in the development of thousands of athletes and offers it to you in this one-of-a-kind practical resource. In a world where every athlete desires to gain that extra advantage over the competition, too often attention is given to the latest quick fix. In Power Eating, you'll find a better way to achieve goals in physique and performance--safely, legally, and effectively. In this fourth edition, you'll find the latest scientifically proven nutrition guidance that athletes in all power sports require. In addition to the popular diet plans that provide meal suggestions for each meal of the day, you'll discover new findings suggesting how certain botanicals can improve performance when introduced to your diet. And the completely updated supplement rating system, based on the latest scientific studies, will guide you through the minefield of unsubstantiated claims and help you select the best supplements for you based on their purity, potency, digestibility, and absorption.
Incorporate the Power Eating plan into your training and find out what thousands of athletes already know. Power Eating is more than a book. It's your path to power excellence.
Human Kinetics Publishers, 9781450430173, 364pp.
Publication Date: August 2, 2013
About the Author
Susan M. Kleiner, PhD, RD, FACN, CNS, FISSN, is the nutrition authority on eating for strength, and her Power Eating program has reshaped the lives of thousands. She is the owner of High Performance Nutrition, LLC, a consulting firm based in Mercer Island, Washington. Dr. Kleiner has worked as a nutrition consultant to the Seattle Seahawks (including quarterback Matt Hasselbeck), Seattle SuperSonics, Miami Heat, Cleveland Browns, Cleveland Cavaliers, and Repertory Project Dance Company. Among her many national and international championship clients are 2008 Olympic BMX bronze medalist, three-time mountain bike 4X world champion, and two-time national downhill champion Jill Kintner; 2006 U.S. women's ice hockey Olympian Kelly Stephens; and 2004-2006 U.S. women's masters Olympic weightlifting world champion Trish Zuccotti. Dr. Kleiner is an internationally renowned author, speaker, and columnist. For her doctoral research on the cardiovascular disease risks of diet and anabolic steroid use in competitive male bodybuilders, Dr. Kleiner received a Young Investigator Award in 1987 from the American College of Nutrition. She is a fellow and cofounder of the International Society of Sports Nutrition and a fellow of the American College of Nutrition as well as a member of the American College of Sports Medicine and the National Strength and Conditioning Association. Dr. Kleiner resides in Mercer Island, Washington. Maggie Greenwood-Robinson, PhD, is a leading health and medical writer in the United States. She has authored or coauthored more than 30 books on nutrition, exercise, weight loss, psychological health, and other health-related issues, among them The Biggest Loser, a New York Times best-seller that is the official diet and fitness book for NBC's hit reality show of the same name. Some of her most recent books are 20/20 Thinking, Good Carbs Vs. Bad Carbs, and Foods That Combat Cancer. Greenwood-Robinson has appeared on numerous television and radio shows, including the Dr. Phil Show and NBC's Dateline. She has also written articles that have appeared in the magazines Shape, Let's Live, Great Life, American Health, Physical, Muscle and Fitness, and MuscleMag International. A frequent speaker on issues concerning health, anti-aging, nutrition, and exercise, Greenwood-Robinson is a member of the Dr. Phil Show advisory board and serves on the advisory board of Physical magazine. Greenwood-Robinson resides in Flower Mound, Texas.
or
Not Currently Available for Direct Purchase