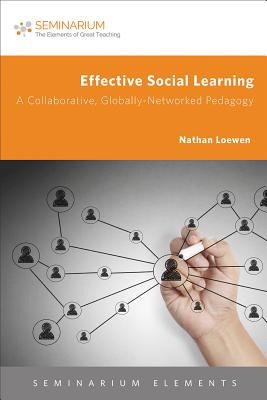 Effective Social Learning
A Collaborative, Globally-Networked Pedagogy (Seminarium Elements)
Paperback

* Individual store prices may vary.
Description
The ground of higher education is shifting, but learning ecosystems around the world have much more space than MOOCs and trendy online platforms can fill, and Loewen shows how professors have an indisputable pedagogical edge that gives them a crucial role to play in higher education. By adopting the collaborative pedagogical process in this book, professors can create effective social learning experiences that connect students to peers and professional colleagues in real time.
Loewen moves beyond surface questions about technology in the classroom to a problem best addressed by educators in bricks-and-mortar institutions: if students are social learners, how do we teach in a way that promotes actual dialogue for learning? Designing learning experiences that develop intercultural competencies puts the test to students social inclinations, and engagement with course material increases when its used to dig deeper into the specificities of their identity and social location. Loewens approach to interinstitutional collaborative teaching will be explored with examples and working templates for collaborative design of effective social learning experiences. This is done by collaborative dialogue with G. Brooke Lester and Christopher Duncanson-Hales. As a group, Loewen, Lester, and Duncanson-Hales create a text that extends pedagogical innovation in inspiring but practical ways.
Fortress Press, 9781451488760, 160pp.
Publication Date: January 15, 2015