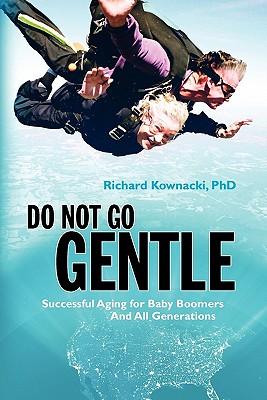 Do Not Go Gentle (Paperback)
Successful Aging for Baby Boomers and All Generations
Createspace Independent Publishing Platform, 9781451555257, 358pp.
Publication Date: October 31, 2010
* Individual store prices may vary.
Description
At age 50, Dr. Richard Kownacki was out of shape and unhappy, fearing the best years of his life were over. He believed advanced age meant living a sedentary life, plagued by depression, disease, disability, and the prejudices of a society driven by youth. But after the chance discovery of a 67-year-old bodybuilder, Dr. Kownacki began to wonder if it was possible to age well after all, and that maybe life after 50 wasn't downhill. So began a journey of discovery that would propel him into a stage of life more fulfilling than he ever dreamed possible. What Dr. Kownacki discovered on his quest for the secret to successful aging forms the core of this clever and inspirational new book. He changed his attitude about aging, adopted a healthy diet, and reacquainted himself with vigorous exercise. As a result, at the age of 56 he looked and felt decades younger. By drawing on his own transformational experience, he offers readers a role model for healthy aging. Yet he never glosses over the difficulties inherent in his plan: his methods are simple, but they require serious commitment to combat decades of poor lifestyle choices. As living proof that we're never too old to be healthy, Dr. Kownacki challenges baby boomers, who once defined what it meant to be young in America, to now define what it means to age well. Unlike most books about aging, which tend to be either esoteric and overly academic or dangerously unscientific, Do Not Go Gentle skillfully balances history, scientific truth, and psychological insight with an ample dose of humor. And in addition to benefiting Dr. Kownacki's readers, 50 percent of profits from the book's sale will be donated to programs like Meals on Wheels and other charitable causes for needy elders. Whether attempting to reverse physical deterioration or simply trying to stave off the psychological effects of time, readers of every age will be delighted to find that they are never too old to live a full and meaningful life.
About the Author
Richard Kownacki grew up in Pittsburgh, Pennsylvania, as the oldest son of Italian and Polish parents. He is currently married and enjoys traveling with Mary, his wife. When he's not busy with research on successful aging, he likes to spend his time (growing old) while listening to rock-and-roll music, watching 1950s monster movies, reading science fiction, playing with the cats, cooking vegetarian gourmet meals, and soaking in the Jacuzzi. On Sunday mornings, he tries to find the proper balance between hugging his wife, lying on the couch, watching the garden grow, and doing absolutely nothing at all. Dr. Kownacki is a clinical psychologist licensed in the state of Texas. He maintains a private practice in Wichita Falls with Mary, who is a psychotherapist. His practice mainly involves psychological evaluations of adults and children. Dr. Kownacki earned his doctorate in clinical psychology from the University of Memphis in 1997. Before that he earned a master's degree in counseling psychology from Angelo State University (1992). In a previous career incarnation, he was a historian and obtained a master's degree in history of religions from UCLA (1979) and undergraduate degrees in both religious studies and history from California State University at Fullerton (1978). Besides being overeducated, Dr. Kownacki has nearly 30 years of experience in the field of mental health or human services: 1) six years in vocational rehabilitation, as a vocational evaluator and rehab counselor; 2) eight years in community corrections, as a probation officer, alcohol and drug counselor, and program evaluator; and 3) fourteen years as a clinical psychologist (1996 onward). He is a certified rational emotive therapist, with a cognitive-behavioral orientation and experience in twelve-step program work.