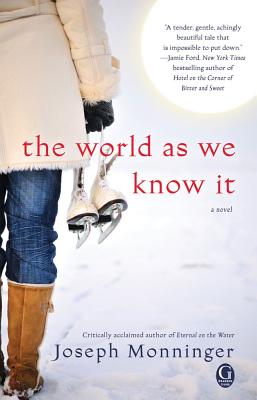 The World As We Know It (Paperback)
Gallery Books, 9781451606348, 320pp.
Publication Date: October 11, 2011
* Individual store prices may vary.
Description
A lifetime of friendship begins the day brothers Ed and Allard save Sarah from drowning in an icy river near their rural New Hampshire home. Though their paths diverge through the years, the connection between the three endures until a heartbreaking tragedy in the remote mountains of Wyoming forces Sarah and Allard to confront the unthinkable. In their grief, they find themselves on separate journeys that test the enduring bonds of their relationship and time's unremitting power to heal. Poignant and transformative, The World as We Know It is subtle and heartrending—a love story of friendship, nature, and the surprising twists that can alter our destinies forever.
About the Author
Joseph Monninger has published several award-winning YA novels and three books of nonfiction, including the memoir Home Waters, and has been awarded two National Endowment for the Arts fellowships. He lives and teaches in New Hampshire, where he also runs a dog sled team.
Praise For The World As We Know It…
"Critically-acclaimed Monninger, known for outstanding character development and lavish landscapes, does it again with this tale of young New Hampshire brothers and the world they construct…Monninger presents a fascinating exploration about true love, fate, and the roads taken in life." --PW

"Monninger has homed in on the beauty and cruelty of the natural world in this gripping and moving story of loss and understanding. Readers ... will revel in Monninger's warm and graceful descriptions of rural New Hampshire and his adept understanding of the landscape of human relationships." --Booklist

"This ruminative, poetic novel may resonate with modern fiction readers as well as lovers of the outdoors." --Library Journal

"Joe Monninger beautifully captures the essence of childhood adventure and the sweet innocence of falling in love for the first time. Fans of John Irving, you have a new author to love." --Lisa Genova, New York Times bestselling author of Still Alice and Left Neglected

"Ask yourself when the last time it was that you read a book so beautiful and agonizing that it made you cry for joy and sorrow. The World As We Know It does that." --Bookreporter

"Monninger's imagery resonates long into the night, while your lamp burns oil because you cannot put the book down until the last page is turned." --Romantic Times (4 stars)

"There are people in our lives whom we love, and lose, and unfailingly long for. They orbit our hearts like Halley's Comet, crossing into our universe only once, or if we are lucky, twice in a lifetime—this is a story of those kind of people—a tender, gentle, achingly beautiful tale that is impossible to put down." --Jamie Ford, the New York Times bestselling author of Hotel on the Corner of Bitter and Sweet

"No one--no one at all--writes about nature and love the way Joe Monninger does. The combination of romantic love with adventure and a bone-deep understanding of the wild is both compelling and transcendent, and his arctic scenes are gripping and visceral. With echoes of Hemingway, THE WORLD AS WE KNOW IT is nothing short of brilliant." --Luanne Rice, New York Times bestselling author of The Deep Blue Sea for Beginners

"The beauty and brutality of nature unfolds in The World As We Know It—a touching tale of love, the wounds of loss, and the fragile complexities within the human heart." —Beth Hoffman, New York Times bestselling author of Saving CeeCee Honeycutt

Praise for Eternal on the Water:

"Love conquers all, the saying goes, but it can't win out over the disease that befalls Mary Fury, the seemingly unflappable heroine at the center of Monninger's poignant, if a bit overlong, novel. Fury has the gene for Huntington's, a cruel affliction that attacks the body slowly, reducing a once healthy person to a mass of twitching muscles and nerves. Jonathan Cobb, a University of New Hampshire professor on sabbatical, learns the grim reality of Mary's situation shortly after the two meet (and instantly fall in love) on the Allagash River. This is the land of Thoreau's Walden Pond, and Cobb had come there to experience firsthand the pleasures of a simple life illustrated by its celebrated author. When Mary begins showing signs of Huntington's, the two must cope with the inevitable, which includes honoring Mary's wishes to live out her days as she sees fit. Monninger (Baby, 2007) is a gifted writer, and readers able to overlook a few maudlin moments will relish this eloquently rendered tale."
--Booklist

Praise for Eternal on the Water:

"Henry David Thoreau meets Nicholas Sparks in this poignant love story rooted in the forests of Maine...Monninger's keen eye for nature, subtle incorporation of indigenous myths and use of symbolism make for a memorable story of love and courage."
--PW