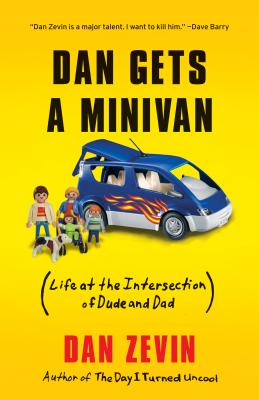 Dan Gets a Minivan
Life at the Intersection of Dude and Dad
Hardcover

* Individual store prices may vary.
Other Editions of This Title:
Digital Audiobook (6/30/2012)
Paperback (5/14/2013)
Compact Disc (7/1/2012)
Compact Disc (10/16/2012)
Description
In the bestselling and beloved tradition of Dave Barry, a coming-of-middle-age tale by Thurber finalist Dan Zevin, master of "Seinfeld-ian nothingness" (Time) about a man's inevitable transition into mid-life and fatherhood.

A coming-of-middle-age tale told with warmth and wit, Dan Gets a Minivan provides the one thing every parent really needs: comic relief. Whether you're a dude, a dad, or someone who's married to either, fasten your seat belt and prepare to crack up.

The least hip citizen of Brooklyn, Dan Zevin has a working wife, two small children, a mother who visits each week to "help," and an obese Labrador mutt who prefers to be driven rather than walked. How he got to this point is a bit of a blur. There was a wedding, and then there was a puppy. A home was purchased in New England. A wife was promoted and transferred to New York. A town house. A new baby boy. A new baby girl. A stay-at-home dad was born. A prescription for Xanax was filled. Gray hairs appeared; gray hairs fell out. Six years passed in six seconds. And then came the minivan.

Dan Zevin, master of "Seinfeld-ian nothingness" (Time), is trying his best to make the transition from couplehood to familyhood. Acclimating to the adult-oriented lifestyle has never been his strong suit, and this slice-of-midlife story chronicles the whole hilarious journey—from instituting date night to joining Costco; from touring Disneyland to recovering from knee surgery; from losing ambition to gaining perspective. Where it's all heading is anyone's guess, but, for Dan, suburbia's calling—and his minivan has GPS.
Praise For Dan Gets a Minivan: Life at the Intersection of Dude and Dad…
"This is the funniest book about parenting I've read in a long, long time. Dan Zevin is a major talent. I want to kill him." —Dave Barry

"Dave Barry has made a career of writing about Dave Barry. P.J. O'Rourke writes about P.J. O'Rourke. And David Sedaris writes about David Sedaris and the strange Sedaris clan into which he was born. You could throw Zevin in with any of them and he would hold his own. He might even float to the top."

"Dan Zevin yanks the car seats and the sippy cups out of that minivan and sticks a blow Hemi dragster engine back there—I mean in his prose style. In his lifestyle it's, um . . . a different matter." —P.J. O'Rourke

"It's a book about a regular guy taking his first tentative, sometimes scary steps toward being a fully formed adult, and it is always funny and sometimes laugh-out-loud hilarious.... Highly recommended to fans of Barry, Roy Blount, and Bill Geist." —Booklist

"Zevin is a poster boy for egalitarian — even feminist — fatherhood. But at the same time, he presents himself as a loving goof-off: a guy who's picked the most enjoyable option — parenting — over working a high-powered, full-time job…With nods to Woody Allen and Larry David, Zevin has forged a persona of half-dorky (yet all-devoted) Jewish dad that's endearing."

"Zevin, in the grand tradition of humorists, has made the most of his failures...What elevates his work above mere irreverence is the quality of insight he brings to relatively familiar terrain."

"Zevin is one hilarious house-husband—like Seinfeld for the stay-at-home-dad set. Raise a sippy cup and cheer him on."
Scribner, 9781451606461, 240pp.
Publication Date: May 22, 2012
About the Author
Dan Zevin's latest book Dan Gets a Minivan: Life at the Intersection of Dude and Dad (Scribner) is the winner of the 2013 Thurber Prize for American Humor. Dan has followed his readers through each phase of life, from post-college coping (Entry-Level Life) to tying the knot (The Nearly-wed Handbook) to developing a disturbing new interest in lawn care and wine tastings (The Day I Turned Uncool: Confessions of a Reluctant Grownup).

Dan has been a comic correspondent for National Public Radio's WBUR, the humor columnist for Boston Magazine and the Boston Phoenix, and a contributor to national publications including Rolling Stone, Details, The NewYorker.com, Real Simple, and Parents. His last two books, Dan Gets a Minivan and The Day I Turned Uncool, have been optioned by Adam Sandler's Happy Madison Productions.

Dan lives with his wife, kids, and pet rabbit in the suburbs of New York, where he has become an active member of his local Costco.

Visit his personal site, at DanZevin.com, or his Facebook fan page, at Facebook.com/pages/Dan-Zevin/160838183983243
or
Not Currently Available for Direct Purchase