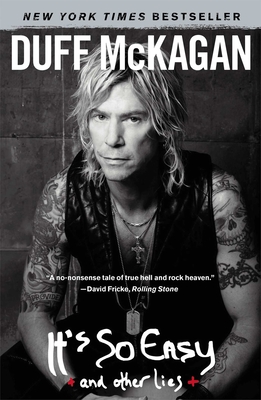 It's So Easy (Paperback)
and other lies
Touchstone, 9781451606645, 384pp.
Publication Date: March 20, 2012
* Individual store prices may vary.
Description
A founding member of Guns N' Roses and Velvet Revolver--and Rock & Roll Hall of Fame inductee--shares the story of his rise to the pinnacle of fame and fortune, his struggles with alcoholism and drug addiction, his personal crash and burn, and his phoenix-like transformation. In 1984, at the age of twenty, Duff McKagan left his native Seattle--partly to pursue music but mainly to get away from a host of heroin overdoses then decimating his closest group of friends in the local punk scene. In L.A. only a few weeks and still living in his car, he answered a want ad for a bass player placed by someone who identified himself only as "Slash." Soon after, the most dangerous band in the world was born. Guns N' Roses went on to sell more than 100 million albums worldwide. In It's So Easy, Duff recounts Guns' unlikely trajectory to a string of multiplatinum albums, sold-out stadium concerts, and global acclaim. But that kind of glory can take its toll, and it did--ultimately--on Duff, as well as on the band itself. As Guns began to splinter, Duff felt that he himself was done, too. But his near death as a direct result of alcoholism proved to be his watershed, the turning point that sent him on a unique path to sobriety and the unexpected choices he has made for himself since. In a voice that is as honest as it is indelibly his own, Duff--one of rock's smartest and most articulate personalities--takes readers on a harrowing journey through the dark heart of one of the most notorious bands in rock-and-roll history and out the other side.
Praise For It's So Easy: and other lies…
"You'll read this memoir from the former Guns N' Roses bass player for the sex, drugs, and rock and roll, but you'll remember it for what comes after—recovery, family, and fulfillment."



"In a book that mourns friendships and talent lost to drugs, his transformation is a relief and an inspiration. McKagan writes with honesty and even humility, seemingly refreshingly devoid of rock star egomania."



"Honest, well-written…McKagan is surprisingly self-aware and candid, and he doesn't let himself off the hook easily."



"In his solid debut, the author…proves himself to be a legit writer.…McKagan has a nice eye for details and a surprisingly good memory. He's proudly raw and harsh, refusing to hold back in terms of language and content…fans will be thrilled by this honest, detailed memoir."




"Fans will love the descriptions of the struggles and early triumphs of GNR, but McKagan's descriptions of his equally driven efforts at self-transformation are just as compelling (particularly his meditation on the redemptive power of reading and the satisfaction he receives in his intellectual as well as physical revitalization). Verdict: Rock fans—and would-be rockers—will find much to savor here. McKagan has packed a lot into his life and a lot of his life into this book. Readers will enjoy the ride."



"McKagan recounts his (tale) with flamboyance and an engaging wit."
or
Not Currently Available for Direct Purchase