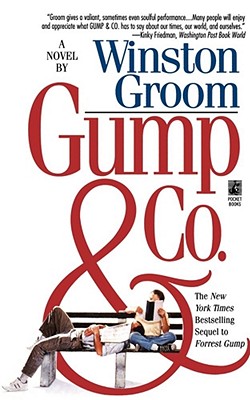 Gump & Co. (Paperback)
Pocket Books, 9781451607543, 256pp.
Publication Date: June 1, 2010
Description
Forrest Gump captured our hearts in the #1 New York Times bestselling novel Forrest Gump, and in the blockbuster film, winner of six Academy Awards including Best Picture and Best Actor. Now he returns in the long-awaited sequel to the book hailed by Larry King as "the funniest novel I have ever read." A little older, and wiser in his unique way, Forrest is still running -- this time straight into the age of greed and instant gratification known as the 1980s. Whenever I really get stumped, I go visit Jenny's grave. She tells me she's always rooting for me. The Bubba Gump Shrimp Co. has gone bust and now Forrest is flat broke, sweeping floors in a New Orleans strip joint, when a fresh opportunity to play championship football puts him back in the limelight -- and in the money. But fate turns fickle again, and he's soon out on the road selling phony encyclopedias and trying to raise his son, little Forrest, who needs his father more than ever. Forrest's remarkable, touching, and utterly comic odyssey has just begun: in store for him is an explosive attempt at hog farming; his own dubious recipe for adding life to New Coke; an encounter with Oliver North of the Iran-Contra affair; and a chance yet again to unwittingly twist the nose of history.
About the Author
Winston Groom, bestselling author of nine books, wrote the acclaimed Vietnam War novel Better Times Than These, the prize-winning As Summers Die, Gone the Sun, and Only. He coauthored Conversations With the Enemy, which was nominated for a 1984 Pulitzer Prize. He is also the author of the #1 New York Times bestsellers Forrest Gump and Gumpisms: The Wit and Wisdom of Forrest Gump. The phenomenal hit film Forrest Gump garnered six Academy Awards, including Best Picture and Best Actor. Mr. Groom is also the author of Shrouds of Glory, an account of Confederate General John Bell Hood's decisive actions in the lost great campaign of the Civil War. He lives in Point Clear, Alabama.
Advertisement