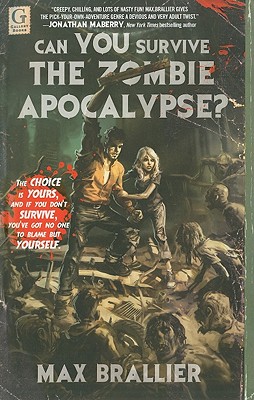 Can You Survive the Zombie Apocalypse? (Paperback)
Gallery Books, 9781451607758, 400pp.
Publication Date: February 8, 2011
* Individual store prices may vary.
Description
Hours of bone-crunching zombie action with 100 paths and 50 endings to choose from—perfect for fans of The Walking Dead. "Creepy, chilling, and lots of nasty fun!" (Jonathan Maberry)

Inside these pages lies unspeakable horror. Bloodsplattering, brain-impaling, flesh-devouring horror. You've probably read your fair share of zombie stories. But this time it's different. No longer can you sit idle as a bunch of fools make all the wrong moves. All hell is about to break loose—and YOU have a say in humanity's survival.

You have choices to make.

Moral dilemmas.

Strategic decisions.

Weapons. Vehicles.

Will you be a hero?

Or will you cover your own ass at all costs?

Can you withstand the coming hours, days, weeks, and months? Or will you die amidst the chaos and violence of a zombie uprising?

Or, worst of all, will you become one of them?
About the Author
Max Brallier is the author of more than twenty books for children and adults, including tie-in books for the popular show Adventure Time and the acclaimed Can You Survive the Zombie Apocalypse? He lives with his wife, Alyse, in New York City, where he spends his time chasing fortune, glory, and the perfect hot dog.
Praise For Can You Survive the Zombie Apocalypse?…
"Creepy, chilling, and lots of nasty fun! Max Brallier gives the pick-your-own-path format a devious and very adult twist."
—Jonathan Maberry, New York Times bestselling author of Rot & Ruin and The Dragon Factory

"Funny, smart and damned gruesome. Way too much fun." – David Moody, author of Hater

"A fun pastiche of B-movie zombie fantasy and interactive horror novel . . . A boy's own adventure that breathes a little well-deserved juvenile humor into the apocalypse." -- Kirkus

"Brallier's book may just be the best thing to happen to literary zombies since Max Brooks." -- Jacksonville Florida Times Union